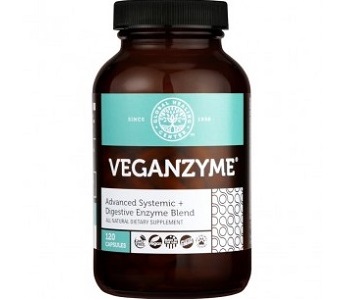 User Ratings (

0

Votes)

0
The following review is for a product called VeganZyme, manufactured by Global Healing Center. This product aims in supporting the digestive system and boosting the immune system. It also helps encourage functional balance throughout the entire body. The manufacturer claims that this product provides advanced digestive as well as systemic enzymes for digestive health. Read our full review below to see what Global Healing Center VeganZyme can do for you. See if it is an effective irritable bowel syndrome (IBS) treatment.
Ingredients
Global Healing Center VeganZyme consists out of a proprietary blend of various enzymes including amylase, papain, and protease, just to name a few. It has been formulated to help break-down carbohydrates, protein, and fats, for a healthier digestion. The capsules are vegetarian. The ingredients list does not contain BioPerine which helps with absorption. Lack thereof may lower the chances of an effective product, in comparison with other products that provide the same functions. We also see no evidence of ingredients that help soothe the painful intestinal tract.
Dosage
The manufacturer recommends that users take 2 capsules twice per day. For digestive support, take the capsules during meal times, with the first bite of food. If users are looking for systemic support, it is best to take the capsules at least 30 minutes before or 2-hours after a meal. The capsules should be taken with a full glass of water.
Women who are pregnant or lactating and persons who are using blood thinners should consult their healthcare professional before using the product.
Price
A single bottle of 120 capsules will cost you $49.95. The product can be purchased online from the manufacturer's website. Persons living in the United States and Canada are eligible for free shipping. The manufacturer does not provide bulk purchases and discounts are not made available to customers. This is unfortunate, as the product may become too expensive for long-term users.
Guarantee & Feedback
Products that have been opened and used may be returned to the manufacturer for a full refund. Returns must take place within 180-days of purchase. Thus, customers who are not 100% satisfied with their product, will be refunded in full. The return shipping fee will also be covered by the manufacturer. This is a very strong money-back guarantee.
We were unable to find any customer reviews on the manufacturer's website. We did however find reviews on Amazon. Customers stated mixed feelings about the effectiveness of the product.
Our Conclusive Review About Global Healing Center VeganZyme
After this review, we found a few things that we like about Global Healing Center VeganZyme. The manufacturer offers what seems to be a very solid money-back guarantee. The dosage instructions are also very clear and straightforward.
Unfortunately, there were also a few things that we found that we did not like. Firstly, the product does not contain BioPerine or ingredients that help soothe the pain in the intestinal tract. Furthermore, the customer reviews presenting mixed feelings about the effectiveness of the product. Lastly, the product may become quite expensive for long-term users as there are no discounts. We do not recommend Global Healing Center VeganZyme.
Bringing you top reviews and product analysis - Consumer Advisors.