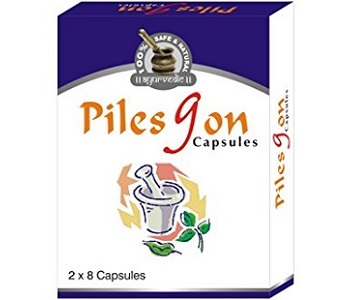 User Ratings (

0

Votes)

0
Today we review Ayurved Pilesgon.  This 100% natural herbal supplement claims to help cure hemorrhoids and help stop the pain associated with them.  By helping improve your blood circulation, this supplement can also increase the elasticity of hemorrhoid veins. These herbs are also known to improve the function of your digestive tract and stop constipation.
Ingredients
This supplement has a long list of herbal ingredients.  Some of those ingredients include Mesua Ferrea, Sapindus Mukorossi, Acacia Catechu and Extractum Bryophyllum Calycinum.  These are all common plants found in countries near India. Through our research, it was difficult to find evidence that these natural ingredients have strong effects on hemorrhoids.
Dosage
The recommended dose of this supplement is 1 or 2 capsules, taken twice per day.  Each dose should be taken with a glass of water. The directions do state that this supplement should be taken consistently for 2-3 months to see optimal results.  As hemorrhoids are a painful, potentially harmful problem, this is a long time to have to wait to see relief. Other products can help you heal hemorrhoids in as little as a few days to a week.
Price
This supplement is available in various sizes.  The smallest size contains 32 capsules and costs $22.  By purchasing their larger boxes, you will save money. 48 capsules costs $30, 64 capsules costs $39, and the best deal is when you buy 80 capsules, which costs $45.  All of the packages include free shipping. By having to take 1-2 capsules, twice a day, even the largest package will only last one month, which means in order to buy enough of this supplement for the entire 2-3 months needed, it will be much more expensive than other products.
Guarantee & Feedback
While the manufacturer does offer a money back guarantee, we found many problems with it.  You can only return the product within 30 days of your purchase. If the company recommends you use the product for 2-3 months, then it is impossible to follow their recommendation and still take advantage of their return policy.  The items must also be returned unopened. The manufacturer does not accept opened products for returns. Also, the customer must pay for all shipping and handling when returning the product. Lastly, every return is subject to a 25% restocking fee, which means this is not a full money back guarantee.
Our Conclusive Review About Ayurved Pilesgon
There are a few things we liked about Ayurved Pilesgon.  The ingredients in this product are 100% natural. Also, they do offer free shipping along with some discounts for ordering more supplement.
Unfortunately, there were many things that concerned us regarding this product.  First of all, the supplement can take up to 3 months for you to see the full effect.  This also drives this price of this supplement up so that it is more expensive than its counterparts.  The manufacturer's guarantee is also extremely lacking in its policies. Without the ability to return opened products, and being subject to a 25% restocking fee, there is no way to try this product without the fear of wasting your money.  For these reasons, we cannot recommend this product to help you heal your hemorrhoids and ease your pain.
Bringing you top reviews and product analysis - Consumer Advisors.