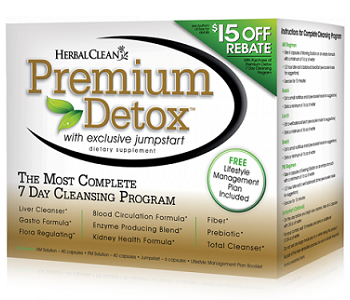 Quality of Ingredient

7.5

User Ratings (

0

Votes)

0
You may want to jumpstart your metabolism or switch over to a new eating plan which is cleaner, or want to rid your system of toxins. Whatever your motivation, detoxing your system is always a good idea as your kidneys and liver work overtime trying to do this. The more taxed they are, the more the likelihood that toxins are making its way into your bloodstream. It impairs almost every function in the body and lowers your defenses. The higher the toxicity level in your body, the less able your body is to absorb vital minerals and nutrients.
Today we review a 7-day detox product called BNG Herbal  Clean Premium Detox 7 Day Kit. It is a herbal, whole body cleanse which calls itself the most complete 7 day cleansing program.
Ingredients
Riboflavin
vitamin B12
burdock root
turmeric root
gentian root
dandelion leaf extract
schizandra berry
juniper berry
cascara sagrada bark
fibersol-2
licorice root
red root extract
milk thistle seed extract
green tea leaf extract
guarana seed extract
echinacea purpurea herb extract.
With the exception of the vitamins Riboflavin and B12, every other ingredient is a detoxifier and has strong antioxidant properties. There are also ingredients to gently stimulate the bowel so that waste elimination can take place. Because it is herbal, it is not an extreme shock to the system but a robust cleanse nonetheless.
Of the detoxifying herbs, dandelion and milk thistle are probably the most potent. Milk thistle is especially good for cleansing the liver so it gets a respite from the build up that comes with its non-stop duties. Turmeric root is especially good for the metabolism as well, boosting the rate at which energy is used, and cayenne does the same thing. Licorice and gentian have the added benefits of soothing any inflammation, which would help get rid of lower back pain caused by inflamed kidneys or bloating caused by an inflamed intestinal lining. Fibersol-2 is digestion-resistant maltodextrin which brings a fiber injection to the body.
Dosage
There are 40 morning and night capsules each. There are also 4 jumpstart capsules that need to be taken. On the first day, consume the jumpstart pack. On day 2 to 7, take the morning and night capsules, 4 capsules of each at a time a directed. The product is useless if you do not stop all lifestyle toxins such as drink, weed and cigarettes. Take 4 capsules with 24 oz water then wait 15 min. Then drink another 12 to 24 oz water. Your AM solution must be taken on an empty stomach. Drink at least 16 oz of water per day. Get at least 15 min exercise per day. You can eat 30 min after taking the AM pack. Be sure to eat well-balanced, nutritious meals.
Possible Side Effects
Increased urination and bowel movements. Some people report nausea as a result of taking the tablets. Do not use if you are pregnant, breastfeeding, have kidney or gallbladder infections, and do not use this product for a prolonged period of use. If you experience cramping, nausea or dizziness, stop using the product.
Price
On Amazon, you can purchase the kit for $28.50.
Guarantee & Feedback
We could not find evidence of a manufacturer-backed guarantee. The product gets mixed reviews; some people love it and other say that it did not work. It is important to note that those saying it did not work seem to have specifically taken the product as a means to pass drug-free tests, but this is not how the product is marketed. It is meant to be a wholesome body cleanse.
Conclusive Review of B.N.G. Herbal Clean Premium Detox 7 Day Kit
If a herb has antioxidant or detoxing properties, it seems to have made its way into this formula. The cleanse is robust and thorough but gentle – some cleanses are so harsh as to be ironically toxic to the body. This is not one of them. The liver, kidneys, bile duct, pancreas, colon, metabolism and digestive system all derive benefits from this formulation.
While we agree that it is an all-over body cleanse, we do not know on what basis the manufacturer claims it to be the best 7-day cleanse. It does not substantiate this claim, nor offer scientific evidence. It is also missing the probiotics needed to restore a healthy pH balance to the gut. There is always a risk in buying a product when you can't get a refund. If this bothers you, look for one backed by a guarantee and which also contains vital probiotics.
Bringing you top reviews and product analysis - Consumer Advisors.