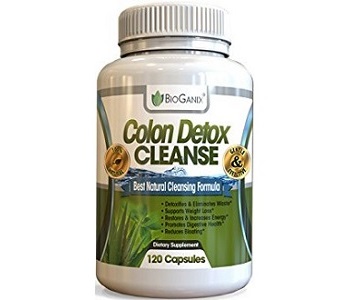 User Ratings (

0

Votes)

0
In this review of Bioganix Colon Detox Cleanse, we have found that the manufacturer might have the answer for problems such as weight gain, a lack of energy, bloating, gas, low metabolism, and digestion. The manufacturer claims that the product is a gentle intestine cleanse that might assist to remove waste and toxins from the colon with the end result being that the consumer will have more energy, faster metabolism, and a better digestive system.
Ingredients
Main Ingredients:
Calcium Carbonate
Oat Seed
Alfalfa leaf
Psyllium Husk
Lactobacillus Acidophilus
Rhubarb Root
Gentian Root
Aloe Vera Leaf
Cascara Sagrada Bark
Goldenseal Root
Buckthorn Bark
Bentonite
The above list of ingredients only contains two clinically proven ingredients which are effective for Colon cleanse, they are Psyllium Husk – is a bulking fiber that works to cleanse the intestines transporting waste and toxins out of the body, and Aloe Vera – works as a gentle laxative that cleanses the colon and detoxifies the blood. As the ingredients are in a Proprietary Blend and the amounts of each ingredient are not known to the consumer, we wonder if it will have the desired effect for the consumer.
There is a Proprietary Blend which consists of:
Microcrystalline Cellulose
Magnesium Stearate
Silicon Dioxide
Magnesium Stearate poses as a contaminant, in this review we find that we are particularly concerned about the consumer with impaired digestion that might have more difficulty absorbing capsules coated with Magnesium Stearate.
Dosage
Two tablets to be taken with the first meal in the morning, and two tablets to be taken with the last meal daily, continue until all 60 tablets have been used.
Possible Side Effects
The manufacturer states that this product must not be taken for longer than 15 days at a time, because of the strength or the formula. The product must be used once every eight weeks for optimal cleansing.
Price
A container of 60 tablets at a price of $17.97 is available online directly from the manufacturer's website, the manufacturer offers a subscription discount of 10%
Guarantee and Feedback
The manufacturer offers a 60-Day money back guarantee, if the consumer is unhappy for whatever reason, the manufacturer must be emailed with a brief explanation of any negative experiences, a refund request has to be completed and upon the request, the manufacturer will then issue a full refund. This is rather disappointing as most leading manufacturers offer a one year 100% full money back guarantee on opened and unopened items.
Our Conclusive Review About Bioganix Colon Detox Cleanse
This product seems to be formulated with some good ingredients and the manufacturer does offer a money back guarantee, however a fact that raises some concern is the proprietary blend. The dosages are not stated, which may result that this product may not be suitable for everyone. We have also found that there are no consumer reviews which we see as a downside compared to indistinguishable products.
Bringing you top reviews and product analysis - Consumer Advisors.