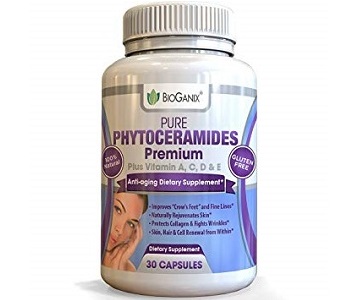 User Ratings (

0

Votes)

0
Phytoceramides promote skin health by hydrating and rejuvenating the skin. The loss of ceramides as a result of age can be combated by using these supplements. The following review closely analyzes Bioganix Pure Phytoceramides Premium. The manufacturer claims that this supplement is an all-natural, gluten-free and potent formula that will reduce wrinkles and fine lines.
Ingredients
Ceramide-PCD (patented ingredient providing glycolipids, phytoceramides, and glycosylceramides)
Vitamin D
Vitamin C
Vitamin E
The inclusion of a patented ingredient indicates the manufacturer's desire to provide substances of an exceptional standard. The combination of glycolipids, phytoceramides, and glycosylceramides can prove beneficial as an anti-aging formula. The addition of essential antioxidants boosts this product's ability to fight damaging free radicals, prevent aging effects of external elements and reduce the appearance of wrinkles and fine lines. However, these ingredients are common to many competitor products and it is no surprise finding them in this one.
Dosage
The manufacturer recommends that 1 capsule should be consumed orally once per day with a meal. The clear stipulation of directions for best use gives the consumer confidence in their ability to use this product as intended. However, the dosage supplied per serving is substantially lower than competitor products. The patented formula provides 40mg of the recommended 350mg found in several alternative products on the market. While the manufacturer argues that their formula is sufficient, this cannot be assured. Users may require additional dosage for improved results. This will decrease the lifespan of each bottle.
Possible Side Effects
The manufacturer claims that this product is 100% natural and gluten-free. Negative side effects are more commonly associated with wheat-based phytoceramides and therefore, this product should not be harmful to users. It is advised that consumers consult a health practitioner prior to first use of this product. Consumers should be aware that this product is rice-based in case of allergies.
Price
This product can be purchased online through the Bioganix website. A 30-capsule bottle (1 month supply) can be bought for $16.97. Customers can save up to 10% on their purchase when subscribing to an auto-delivery system. While these systems can provide convenience, they are often difficult to cancel and customers may be billed and shipped products regardless of whether they want them or not. This should be considered before a purchase is made. The manufacturer does not offer any additional discounts or bulk-buy deals which limits the purchasing options available to you.
Guarantee & Feedback
The efficacy of this product is supported by a 100% money-back guarantee. This indicates the manufacturer's confidence in the product's ability to produce desired results. That being said, the lack of clear stipulation regarding the return policy raises major concerns. It is difficult to accurately determine how easy a return process would be. Upon further research, we were unable to find sufficient customer reviews of this product. This suggests that this product may be an unpopular choice on the market. The lack of reviews makes it difficult to gauge the efficacy of this product. This would need to be assessed after a purchase has been made.
Our Conclusive Review About Bioganix Pure Phytoceramides Premium
The inclusion of several key ingredients common to phytoceramide supplements is good to note. The reasonable price makes this product an affordable choice for improved skin health. The money-back guarantee bodes well for its efficacy, however, the lack of a clearly articulated return policy raises concerns regarding how seamless a return process would be. There are insufficient customer reviews to support this product's ability to provide improved skin health and therefore we cannot recommend this as a reliable anti-aging supplement.
Bringing you top reviews and product analysis - Consumer Advisors.