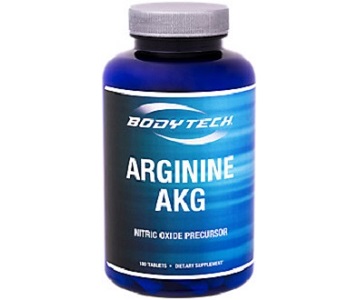 User Ratings (

0

Votes)

0
Nitric Oxide supplements have powerful performance enhancing properties and can provide an effective boost to exercise routines. While these supplements do not contain Nitric Oxide, they promote the production of Nitric Oxide within the body. In this review of Bodytech Arginine AKG, we have outlined detailed information about this product's ability to increase the production of Nitric Oxide to improve exercise performance.
Ingredients
Di-calcium Phosphate
L-arginine Alpha-ketoglutarate
Microcrystalline cellulose
Croscarmellose sodium
Stearic acid
Magnesium stearate
Hydroxypropyl cellulose
Hydroxypropylmethylcellulose
Glycerin
This product contains several ingredients that boost testosterone levels, build lean body mass and increase blood flow for improved workout performance. The product provides a sufficient dosage, 3000mg, of L-arginine Alpha-ketoglutarate which can promote the production of Nitric Oxide in the body. This quantity is common to several similar products on the market. This product includes additional ingredients, however, many of these substances do not have the same performance enhancing properties. Arginine AKG lacks several ingredients, such as Beetroot and Glutamic Acid, that are common to competitor products. These are extremely beneficial to the production of Nitric Oxide which improves exercise performance.
Dosage
The manufacturer recommends that adults consume 3 tablets 2 times daily on an empty stomach. Users should consume this product in the morning and 30 minutes prior to workout routines. Users should consume 64 ounces of water daily when using this supplement. This dosage provides sufficient levels of its main active ingredient which can increase blood flow for improved recovery during workouts.
Possible Side Effects
Nitric Oxide supplements are not void of negative side effects. Increased blood flow as a result of supplementation can induce nausea, dizziness, and palpitations. Individual tolerance will need to be assessed, however, this can only be tested after a purchase has been made.
Price
Arginine AKG can be purchased online from third-party sites. One third-party website sells this product for $29.99 per 180-tablet bottle. Purchasing this product on an auto-delivery system will save you 10%. This is an appealing selling point, however, these systems are often difficult to cancel. The price per bottle for this product is not significantly more expensive than competitor products and this is justified when comparing its limited ingredients.
Guarantee & Feedback
Purchasing this product from a third-party site may include a guarantee. For example, one third-party site offers a 30-day money-back guarantee on this product. However, consumers will be refunded with store credit rather than money. Therefore this guarantee does not specifically back the efficacy of this product. Negative reviews have surfaced online claiming this product's inability to produce desired results. Individual consumer reaction will vary and therefore efficacy can only be assured after purchasing this product.
Our Conclusive Review About Bodytech Arginine AKG
This seems to be an appealing product for improved physical performance. The ingredients promote the building of muscle mass and increased blood flow for enhanced training. However, there are several downsides to this product. The manufacturer of this product does not clearly stipulate a money-back guarantee which does not bode well for the efficacy of this product. This combined with negative reviews suggest that this product may not be as effective as intended. It is for these reasons that we cannot recommend this product and suggest seeking out an alternative product on the market.
Bringing you top reviews and product analysis - Consumer Advisors.