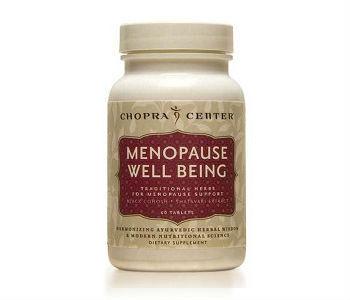 User Ratings (

0

Votes)

0
Menopause Well Being by Chopra Center is a menopausal symptom relief herbal supplement. It claims to provide relief to woman suffering the discomforts during the different phases of menopause. It also claims to provide protection to the cardiovascular system as well as strengthening bones.
Ingredients
Menopause Well Being is made up of the following ingredients:
Asparagus Root Extract (100 mg) – is used mostly to treat conditions related to the urinary tract and kidneys. It is a mild diuretic that can help ease urinary tract inflammation. By increasing urine it can help prevent kidney stones. It also has been shown to help suppress coughs, lower blood glucose levels and reduce the frequency of diarrhea.
Black Cohosh Extract (40 mg) – has been used for centuries in herbal remedies to ease headaches, hot flashes, changes in mood, sleep disturbances, palpitations of the heart, sweating in the night and vaginal dryness.
Gotu Kola Extract (40 mg) – contains chemicals that appear to reduce inflammation and lower blood pressure. It aids in increased production of collagen.
Vitamin D3 (400 iu/gram) – is essential to the body because it helps regulate the amount of phosphate and calcium in the body. How much you need depends on your age and health. Healthy people normally do not need more than 10 micrograms a day (.01 mg)
Calcium Carbonate Granules (420 mg) – dietary supplement that works by providing extra calcium to the body.
Calcium Carbonate Powder (80 mg) – dietary supplement that works by providing extra calcium to the body.
Emblic Myrobalan Fruit Powder (100 mg) – also called Indian gooseberry, it is used to relieve sore throat and intestinally bleeding. There is no clinical evidence to show that this supplement actually does help with these complications.
Soy Isoflavones (100 mg) – isoflavones are converted in the body into phytoestrogens which behave similarly to the human hormone, estrogen.
Dosage
It is recommended to take two Menopause Well Being tablets twice a day.
Side Effects
As with all dietary supplements there may be some mild side effects. The most commonly reported are upset stomach and nausea. These will dissipate with time and use of the product. Pregnant or breast feeding woman should consult with their physician before taking this supplement. Anyone with an allergy to soy should not take this product.
Price
The suggested retail price for this supplement is $28.00 for a bottle that contains 60 tablets. This equates to a one month supply.
Guarantee
If buying this from the Chopra Center, they do offer a 30 day return policy from the date of purchase. They also provide customer service contacts on their website.
Conclusion Of Our Chopra Center Menopause Well Being Review
Menopause Well Being is a little more costly than other leading menopause relief supplements. The website is lacking any feedback from previous customers who have bought and used this product so it is difficult to evaluate its effectiveness or quality.
Bringing you top reviews and product analysis - Consumer Advisors.