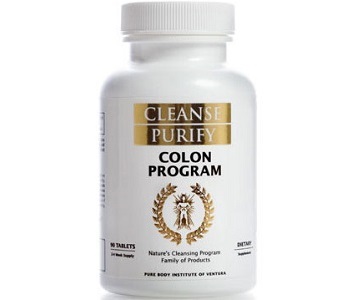 User Ratings (

0

Votes)

0
Under certain circumstances the colon function can be slowed down or impaired. This often coincides with periods of high stress or eating a lot of junk food. It might then be time to use a colon cleansing supplement. A colon cleansing supplement like Cleanse Purify Colon Program helps to clear the colon of toxins and improve movement of substances through it once again. This review examines the all natural product to decide how effective it is.
Ingredients
Psyllium seed
Cascara Sagrada bark
Buckthorn bark
Liquorice root
Rhubarb root
Ginger root
Goldenseal herb
The ingredients in this colon cleanse supplement help to bulk the food mass so it moves through the intestine better, because a number of them contain high amounts of fiber, for example psyllium seed. Bulking the food mass helps to adhere some of the unwanted substances to the mass so that they are excreted and do not remain in the colon.
Some of the ingredients like licorice root have a natural laxative effect as well, which helps to increase mobility in the intestine so that the unwanted substances do not remain there for an unnecessary period of time. This manufacturer does not include probiotic bacteria in their supplement, like some other manufacturers do. So once the colon cleansing has occurred, there are no elements to maintain the colon health thereafter.
Dosage
One capsule of Cleanse Purify Colon Program can be taken after breakfast and one capsule can be taken after dinner. Once the body has adapted, three to five capsules can be taken at each occasion. The supplement must be taken for six days a week and up to 3 months for the best results.
Possible Side Effects
The major side effects expected to occur are mild diarrhea and an upset stomach. These side effects usually pass, but if they don't, use of the supplement must be stopped immediately. Otherwise, pregnant women and nursing mothers should seek the guidance of a healthcare practitioner before using the supplement.
Price
Ninety capsules of Cleanse Purify Colon Program can be bought online for $33.95. This manufacturer doesn't offer any bulk purchase discounts or subscription service discounts and the prices do not include shipping or taxes.
Guarantee & Feedback
The unopened product may be returned within 30 days of receipt for a partial refund. Then the customer receives 80% of their money back, as 20% is a restocking fee. There does not appear to be any refund for products which have already been opened.
The manufacturer doesn't provide a space for the customers to post their feedback, and there are very few reviews on third party distributor websites.
Our Conclusive Review About Cleanse Purify Colon Program
Some of the ingredients in Cleanse Purify Colon Program show good potential for their colon cleansing action, but the supplement is missing a maintenance effect. Cleanse Purify Colon Program is offered at a reasonable price though. The problem with this is that the manufacturer does not have a guarantee which allows the customer to try the product and see if it works for them, so customers may feel frustrated if they don't get the results they were hoping for.
Bringing you top reviews and product analysis - Consumer Advisors.