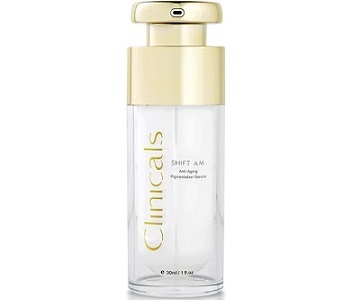 Quality of Ingredient

7.5

User Ratings (

0

Votes)

0
Shift AM Anti-Ageing Pigmentation Day Serum is the topic of our review today as we continue our quest to ensure you make the best serum purchase you possibly can. It is produced by Clinicals Dermally Active Skincare and is marketed as a serum that will absorb into our skin quickly and provide thorough hydration. It promises to reduce uneven pigmentation and fight the signs of aging. The result the manufacturer aims for is brighter, clearer, more even-toned skin.
Ingredients
The key ingredients are:
Amino Acid Complex
Hyaluronic Acid
Niacinamide (3-pyridinecarboxamide)
Vitamin C
Gamma Oryzanol
Rumex Occidentalis Extract
Nonapeptide-1
Resveratrol
Beta1,3 Glucan
Amino acids work on undoing sun damage while Hyaluronic Acid is probably the best hydrating agent you could include. Skin tone, texture, and elasticity are all aided by the inclusion of Niacinamide (3-pyridinecarboxamide). Vitamin C brightens skin and stimulates collagen production. Gamma Oryzanol is essentially a sun blocking agent. Pigmentation is improved by the inclusion of Rumex Occidentalis Extract, while Nonapeptide-1 further brightens and fight hyperpigmentation. Resveratrol is a major force in the fight against free radicals and aging, and Beta1,3 Glucan is an added bonus as it helps to fight cancer.
This is a high-quality formula with an emphasis on hydration and evening out pigmentation issues. That said, it is still lacking key clinically proven ingredients such as wheat extract, Electric Daisy Flower, Alpenrose and more. This compromises efficacy and specifically, key nutrient delivery to cells and long-term cell repair.
How To Use
The manufacturer has not provided exact instructions. It is likely that you would gently massage in a tiny bit of serum after cleansing and toning. The formula is fast absorbing according to the manufacturer so should be light enough to wear under your makeup.
Price
A 30ml serum wand will cost you $115.00 from their web store. There are no discounts or bundled packages.
Guarantee & Feedback
There is no express returns policy if you have used the product and are dissatisfied. However, Clinicals Skincare will replace any damaged, faulty or leaking items. If you have an allergic reaction, the stockist can return the products with a detailed explanation and Clinicals will then, 'if warranted', replace this product. In our opinion, this does not constitute a strong return or guarantee policy and is at odds with the manufacturer's proclaimed confidence in their product. There are few to no reviews for this serum so it is not possible to tell how it works in practice.
Our Conclusive Review About Clinicals Dermally Active Skincare Shift AM
The formula contains key quality ingredients such as Hyaluronic Acid and resveratrol. It is paraben and fragrance-free making it safe and gentle enough for many skin types. That said, there are some major clinically proven ingredients missing which would have rounded off the formulation and given it the ability to tackle skin repair on a number of fronts. The manufacturer already purports to do this, but without these key ingredients, the benefits are not far-reaching enough. The serum has a high price point. Give this, we would have expected to see a minimum of five patented ingredients included. This is the standard set and met by the most effective serums on the market. It would mean, for example, being able to reap the benefits of the most stable, dense and active forms of vitamin C, resveratrol and Hyaluronic Acid. Look for a minimum of five patented ingredients and 10% active ingredients if you are intent on nourishing your skin with the highest quality as backed up by clinical trial data.
Bringing you top reviews and product analysis - Consumer Advisors.