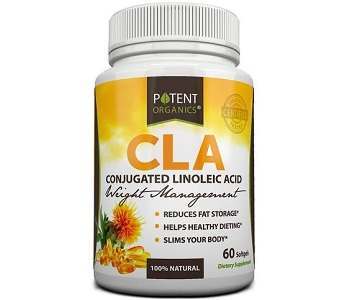 User Ratings (

0

Votes)

0
Potent Organics CLA is a supplement that is made to provide nutritional support for muscle growth and fat burning. Its manufacturer claims it is a favorite of gym buffs, describing the product as the "latest exercise supplement." The company says it promotes fast lean tissue production, increases muscle retention, and expedites the fat burning process. And it is said to do all this without producing adverse side effects and without GMO content. Read our Potent Organics CLA review further to find out if it is as good as it sounds.
Ingredients
The main ingredient in the formula is safflower extract. This contains:
Conjugated linoleic acid (CLA) – 780 mg
Oleic acid – 150 mg
Palmitic acid – 30 mg
Stearic acid – 30 mg
Linoleic acid – 10 mg
Other inactive ingredients that are include are:
Caramel color (capsule shell)
Gelatin
Glycerin
Purified water
Of course, as in other CLA supplements, conjugated linoleic acid is the principal focus in Potent Organics CLA. It is said to offer an effective means of reducing body fat when combined with a good fitness routine and a healthy diet. The supplement also promotes rapid production of lean body tissues. Potent Organics says CLA eliminates need for expensive shakes and pills to enhance muscle retention after workouts.
Dosage
The serving size for Potent Organics CLA is one softgel taken two times in a day, preferably with meals. It is important to stick to this dosage to guard against unknown side effects. As is typical, pregnant or lactating women should speak to a doctor before use.
Possible Side Effects
Potent Organics CLA is without adverse side effects, according to its maker. But there is report of stomach pain from use. Nausea and fatigue are also among possible side effects. If you have an existing medical condition, you will do well to first speak with your doctor. It may not be safe for those with diabetes, bleeding disorders or metabolic syndromes.
Price
A bottle of Potent Organics CLA goes for $24.73 on the official website. This comes with 60 softgels. As we write this, there is a lower price of $21.97 on Amazon.
Guarantee and Feedback
There is a 90-day money back guarantee on your purchase of this supplement. You are free to request a refund if you do not see desired results. However, you will only get your money back for unopened items. They must be in the same condition as received and in original packaging.
Most of those who bought Potent Organics CLA said it worked. But it was usually combined with good diet and exercise.
Our Conclusive Review About Potent Organics CLA
You may rightly expect this supplement to help with your fitness goals, when combined with a healthy diet and workouts. The ingredient is pretty straightforward and the softgels are easy to swallow. But side effects may be experienced, especially when not used appropriately or when used on an empty stomach. The CLA content is also lower than what has been shown to be highly beneficial for weight loss and bodybuilding. The money-back policy can only be described as disappointing and does not make possible risk-free testing of the product's effectiveness.
Bringing you top reviews and product analysis - Consumer Advisors.