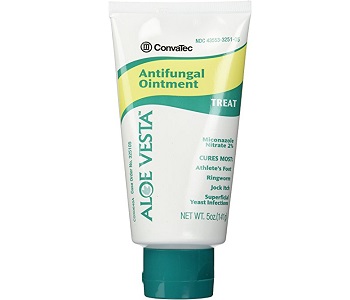 User Ratings (

0

Votes)

0
The red, circular rash caused by ringworm, which looks like a worm curled under the skin and causes itching and a burning sensation is not actually a worm at all – it is a fungal infection. There is a whole class of fungi which can cause this kind of infection. These fungi are called dermatophytes. Dermatophytes live on and feed on the tissue beneath the skin. These fungal infections spread quickly and easily through direct or indirect contact (contact with an object which has been touched by infected skin). Luckily they are easily treatable and there are many ointments available for this use. One such ointment is Convatec Aloe Vesta Antifungal Ointment. In this review we look at the effectiveness of this product and if it has a good value for money.
Ingredients
This ointment has two ingredients – miconazole nitrate and aloe extract. Miconazole affects the proteins in a fungal cell which are responsible for maintaining the structure of the cell membrane.   Without these proteins the fungal cell begins to leak and will eventually burst, thus eliminating the infection. The aloe extract treats the symptoms of the infection such as swelling, inflammation and itching.  The vitamins and proteins present in aloe extract help the skin to heal. It has been scientifically shown  that aloe interacts with skin receptors to  promote skin cell replication and to reduce inflammatory mediators.
Dosage
Convatec Aloe Vesta Antifungal Ointment Should be applied twice a day- in the morning and night to infected area after it has been washed and dried thoroughly. The dose of miconazole may be sufficient but a physician may prescribe a more frequent use or a higher dosage.
Possible Side Effects
This product can be very toxic if it is ingested. It can also cause an allergic reaction for customers who are hypersensitive to any of the ingredients. This product should not be used  on children under 2 years old. Contact with eyes should also be avoided.
Price
One tube can be bought on Amazon for $13.94. A tube contains 5 oz of Convatec Aloe Vesta Antifungal Ointment. Unfortunately, no  discount is offered  for buying  in bulk.
Guarantee & Feedback
No information regarding a guarantee could be found so customers cannot obtain a refund if they are unsatisfied. The customer reviews for this product are mostly positive but some customers complain that it is greasy.
Our Conclusive Review About Convatec Aloe Vesta Antifungal Ointment
The ingredients in this product are scientifically verified for eliminating fungal infections. The directions for use are quite clear and the dosage  seems sufficient.  The price is also quite reasonable.
However, there is a fair chance of adverse reactions for people with sensitive skin. We suggest a more natural product  for this purpose, especially since they are generally better absorbed than synthetic products and do not leave a greasy residue. There are products for the treatment of ringworm which do offer a guarantee, which this product does not, so we suggest that potential customers look for these.
Bringing you top reviews and product analysis - Consumer Advisors.