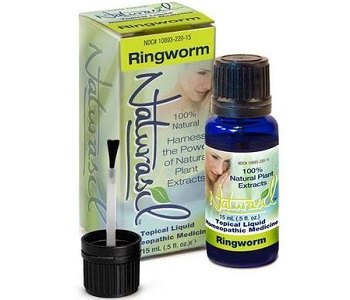 User Ratings (

0

Votes)

0
Ringworm is a fungal skin infection that commonly effects the skin, scalp, feet or groin. It's name is misleading because ringworm is not caused by a worm, rather it is a fungal infection that manifests in a rash that is in the shape of a circle. There are variety of treatments available on the market and it can be tricky choosing which will be effective and right for you. This Naturasil Ringworm Treatment is going to take a closer look at the facts and details to learn more about how this product works and to see if it's worth giving a try. The manufacturer claims that their homeopathic treatment will naturally assist in eliminating ringworm without use of the harsh chemical treatments found in most traditional ringworm treatments.
Ingredients
The only active ingredient in this product is Sulfur 6X HPUS. HPUS indicate that the ingredients in this product are monographed in the Homeopathic Parmacopeia of the United Stated. Other ingredients include cymbopogon citratus leaf oil, eucalyptus leaf oil, jojoba seed oil, lavender oil, melaleuca alternifolia leaf oil, patchouli leaf oil.
Sulfur is incorporated to help relieve painful symptoms of ringworm. Cymbopogon Citratus leaf oil is incorporated for its antibacterial and anti-inflammatory properties. Eucalyptus leaf oil is included because of its anti-microbial components. Patchouli leaf oil helps healing dry and itchy skin. Lavender oil is known for its pain relieving properties.
Dosage
You are instructed to apply the topical liquid directly onto the infected area two to three times a day for one to three weeks, depending on the severity of the outbreak. It should take between four to seven days for the product to penetrate and assist in health the ringworm symptoms.
Store the bottle in a cool place out of direct sunlight. One 15 ml bottle should last around thirty days.
Possible Side Effects
We were unable to find any associated side effects with this product. Check the ingredients to make sure that you are not allergic to any of the ingredients before use.
Price
You can purchase Naturasil Rignworm Treatment directly from the manufacturer and from third-party retailers. One 15 ml bottle will cost you $24.95 if you choose to purchase directly from the manufacturer. There are no discounted bulk purchasing packages offered which can be a deterrent if you have the tendency to develop ringworm or it runs in your family.
Guarantee & Feedback
Naturasil offers a 90-money back guarantee. You are encouraged to use the product as directed for a minimum of thirty days before requesting a refund.
Although we generally find consumer feedback to be mixed, we found most of the feedback regarding Ringworm Treatment to be negative. Consumers reported that using this topical treatment did little to nothing to relieve or eliminate their symptoms of ringworm.
Our Conclusive Review About Naturasil Ringworm Treatment 
Naturasil Ringworm Treatment appears to be a decent product. It is made from a variety of natural ingredients that have been shown have the ability to relieve symptoms of ringworm and it comes in an easy to apply liquid that includes a usable brush applicator for convenience. However, the consumer feedback is a bright red flag that deters us from this product. We understand that every person can have varied results from using a treatment but most of the consumer feedback we saw regarding this product is negative. Furthermore, Naturasil does not offer any discounted bulk purchasing packages which will make maintaining this treatment expensive. With so many effective ringworm treatments available on the market, you are better off choosing one that has been shown to have effective results for users and one that offers affordable bulk purchasing packages.
Bringing you top reviews and product analysis - Consumer Advisors.