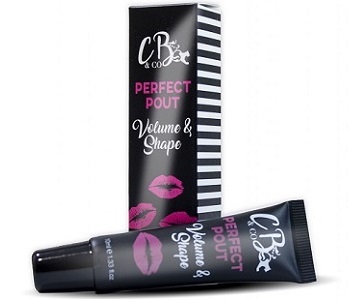 User Ratings (

0

Votes)

0
This is a review of Perfect Pout Lip Plumper. The manufacturer claims that this product will have a visible impact on your lips' shape, increase lip volume, improve softness and hydration and also decrease anti-sagging and anti-aging of lips. To discover the facts you need to know read our review below.
Ingredients
Volulip assists with the moisturizing, plumping and shaping of lips. Vitamin E has moisturizing and antioxidant properties. Peppermint and Corum create a refreshing scent and flavor.
We like the fact that Cougar only uses cruelty-free formulas which never get tested on animals. It is not clear, however, whether this formula is suitable for vegans.
We find it concerning that there aren't any patented ingredients included in this formula and that it does not include at least 10% active ingredients. Rather be on the lookout for a lip plumper which contains at least 5 patented ingredients and 10% active ingredients if you really want to see results.
How To Use
The product should be rubbed around and on the lip area. All of the lip areas should be covered in order to see fuller and more intense results. The manufacturer does not give clear usage instructions in terms of how often the formula should be applied. We prefer manufacturers who provide clear usage instructions in order to make sure that the end user is in no doubt about how to use the product for optimal benefit.
Price
Perfect Pout can be bought for $14.99. They do not offer any discounts or bulk purchasing options at this stage. There are other lip plumper companies who provide excellent ranges of purchasing options with discounts for bulk buying their product. This is much more cost effective in the long run.
Guarantee & Feedback
The company has a 7-day return policy. It is not clear, however, in what shape the product should be in when returned. We don't think that seven days are really enough in order to give a client a chance to try out the product to find out whether it works for them or not.
There are only a few positive (5-star rating) reviews available on the manufacturer's website.
Our Conclusive Review About Cougar Perfect Pout Lip Plumper
After we reviewed Perfect Pout, we found that it contains a few quality ingredients and that the price is relatively affordable.
We did find it concerning, however, that there isn't at least 10% active ingredients included in this formula and that it does not contain any patented ingredients. This will definitely affect the effectiveness of the product.
We also find it worrying that the dosage instructions are not clear and that the company offers a 7-day money-back guarantee only. This does not give the end-user enough time to really find out whether the lip plumper shows results or not. There are other lip plumper companies who offer up to 90-day money-back guarantees even for empty containers. We would suggest you rather try one of those products as it will give you the chance to try out a new product without the risk of losing your money.
Bringing you top reviews and product analysis - Consumer Advisors.