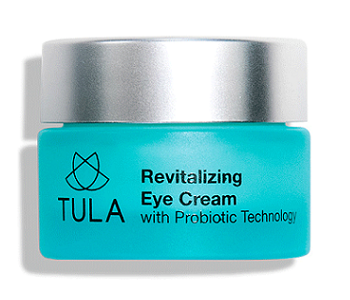 Quality of Ingredient

7.5

User Ratings (

0

Votes)

0
This is a review of TULA Revitalizing Eye Cream, a probiotic enriched product that the manufacturer claims to deeply hydrate the skin around the eyes to minimize signs of aging like fine lines and dark circles. The manufacturer also claims that this product is suitable for all skin types, however, is it suited as the best anti-aging eye cream solution on the market? This review will assess ingredients and customer service in an attempt to answer this question.
Ingredients
Olive oil squalene
Jojoba oil
Shea butter
Vitamin C
100% natural probiotics (Bifida Ferment Lysate)
The manufacturer claims that these ingredients are all natural, cruelty-free, and free from sulfates. Squalene is rich in antioxidants and offers anti-aging properties as well as hydrates skin. Shea butter increases the firmness of skin while grape seed oil is high in vitamin E which further provides antioxidant-rich anti-aging benefits. Vitamin C provides protection from environmental damage while probiotics and jojoba oil nourish skin while retaining moisture. While these ingredients are beneficial, there are a few of many included in the formula (up to 48 ingredients) of which includes perfume. In saying so, the efficacy of the active ingredients may be desalted by the filler and potentially allergenic ingredients. Furthermore, this product is missing patented ingredients like SYN-EYE, which is proven to smoothen and brighten skin while visibly reducing signs of aging (like wrinkles and fine lines) just after 14 days of use. Whatsmore, the product is missing a cGMP certification which means that market-standard processes may not have been used during the manufacture of this product.
Instructions
The manufacturer offers relatively standard instructions of use. Apply the cream beneath the eye by gently patting it down and massaging it lightly up the brow bone. This application should be repeated both morning and night. It is unfortunate to note that over above the many ingredients included in this formula, there is no concentration of the key active ingredients, therefore, we are uncertain if this product would be effective or not.
Price
A 0.5 oz unit of TULA Revitalizing Eye Cream can be bought from the manufacturer's website for $52,00. This is relatively expensive, especially since there are no package deals available to promote sustained use. There is a 10% discount available on auto-delivery subscriptions; however, the minuscule savings may not be worth the hassle of the purchase scheme. There is also a 15% discount for first-time orders which is positive to note.
Guarantee
TULA offers a 30-day period for refunds in which product may be returned for any reason. These refunds need to be initiated by emailing customer services. While this may seem adequate, the policy is somewhat vague is it does not state if the product can be partially used and still qualify for a refund. There are too few reviews online for us to confidently comment on claims of efficacy.
Conclusion of Our TULA Revitalizing Eye Cream Review
TULA Revitalizing Eye Cream has many ingredients that have been known to provide anti-aging benefits, however, there are many more other ingredients in the formula. This, combined with the lack of concentration makes us question claims of efficacy. Furthermore, the lack of parented ingredients means that this product may be less effective than competing brands. While there is a discount for first purchases, the product may become costly to sustain with no bulk deals to encourage long-term use. Although there is a 30-day policy, it is vague and product efficacy is not backed up by customer reviews. For these reasons, we do not recommend TULA Revitalizing Eye Cream as the best anti-aging eye cream solution on the market.
Bringing you top reviews and product analysis - Consumer Advisors.