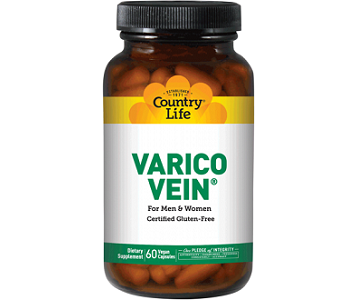 User Ratings (

0

Votes)

0
The following review of Country Life VaricoVein will analyze the product's ability to provide relief from varicose veins. The goal of this review is to assess the reliability of manufacturer claims to help you make an informed consumer purchase. The company that has formulated this product states that it will support vein tone and structure and, thus, reduce the appearance and symptoms of varicose veins.
Ingredients
Vitamin C
Natural Orange Extract
Grape Seed Extract
This list of ingredients has the ability to combat varicose veins. Diosmin, the main ingredient, is well known for its ability to improve blood circulation and reduce swelling. For this reason, it remedies the enlarged and painful vein structure caused by varicose veins. The other ingredients in this formula support the benefits of Diosmin. Vitamin C is an essential substance that works to improve collagen production in the body. This has a direct impact on the plumpness of skin and, thus, combats the prominence of varicose veins. Natural Orange Extract supplies Hesperidin which works synergistically with Diosmin to improve blood circulation. While these ingredients can prove beneficial, they are common to many competing products on the market. Other brands enhance the effectiveness of their products by adding supportive ingredients known to remedy discomforting symptoms. Furthermore, these alternatives include a cream formula to improve efficiency. It is, however, positive to note that VaricoVein is gluten-free and does not contain worrisome allergens.
Dosage
Adults should consume two (2) capsules daily with food. For best results, take one (1) with breakfast and 1 with lunch. Each serving provides 900mg of Diosmin and 100mg of Hesperidin. This is a typical dosage among similar products on the market and is, therefore, neither too high nor low.
Possible Side Effects
The manufacturer provides no warnings for the use of this product. This is a concern as long-term use of Diosmin may cause negative side effects if the product is of an inferior quality. Users should monitor for abdominal pain or diarrhea, and we recommend discontinuing use if these persist.
Price
The product can be purchased online through third-party sites. It retails on Amazon for $26.99 per 60 capsules. This is not overly expensive, however, there are no bulk-buy deals to ensure that prolonged use is cost-effective. The stockist offers a subscribe and save deal but we advise against this as these are often difficult to cancel.
Guarantee & Feedback
The manufacturer does not offer a guarantee themselves. This is rather concerning as it suggests that they are unsure of the efficacy of the product. Guarantees and return policies are subject to the retailer that stocks the product. In many cases, these guarantees only apply to unopened products. Therefore, consumers cannot test product effectiveness before committing to a purchase. We were disappointed to note that there are limited customer reviews to support this product. Reviews are largely mixed and this indicates that results are subjective.
Our Conclusive Review About Country Life VaricoVein
There are several positive factors about this product. It contains the correct dosage of ingredients known to provide relief from varicose veins. It is also competitively priced. Howbeit, the product lacks a manufacturer guarantee and substantial customer reviews to ensure its effectiveness. There are no bulk-buy deals to encourage long-term use. The product also lacks several ingredients that can be found in superior brands on the market. These are some of the main reasons why we do not recommend Country Life VaricoVein.
Bringing you top reviews and product analysis - Consumer Advisors.