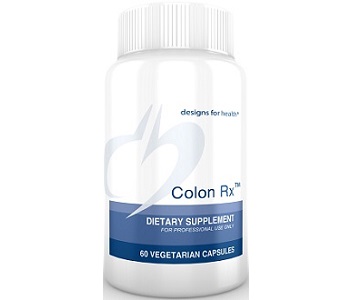 User Ratings (

0

Votes)

0
Factors, like keeping a poor diet, stress, not drinking enough or eating enough fiber, can all contribute to why you may be experiencing constipation. All these factors can overwhelm your colon and cause it to work less efficiently and weaken it. It is estimated that over time most people are holding onto more than 10 extra pounds of waste that are lodged in their colon. This makes taking a cleanser necessary in order to wash out your system to make it work optimally. With so many different colon cleansers currently available on the market it can be confusing picking one that is the right fit for you. This review is going to examine Designs for Health Colon Rx. This is a colon cleanser that comes in easy to swallow capsules. The manufacturer claims that its two active key ingredients will help improve your bowel mobility and tonicity if you are experiencing constipation. It can be used for short periods of time as a fast-acting mild laxative or daily to help strengthen and tonify the bowels.
Ingredients
Triphala (Emblica officinalis, Terminalia bellirica, Terminalia chebula)(fruit) – 1 g
Magnesium Hydroxide – 400 mg
Other Ingredients: Cellulose (capsule), microcrystalline cellulose, vegetable stearate.
Triphala is a bowel tonic that is believed to help support regular bowel movements. It is also a natural antioxidant that supports healthy digestion and absorption, nourishes and rejuvenates the tissue and assists internal cleansing.
Magnesium Hydroxide is believed to reduce stomach acid and increase water in the intestines making it easier to pass bowel movements.
Dosage
Designs for Health recommends taking 2 capsules with an 8 oz glass of water at bedtime or as otherwise directed by your doctor.
If you are under medical care, nursing or pregnant, they recommend consulting with your healthcare provider before consuming this product.
Possible Side Effects
The manufacturer does not list any potential side effects. In our research, we found common side effects associated with Triphala to be headaches, nausea, rash, upset stomach or diarrhea.
Price
One 60 capsule bottle is available to purchase on Designs for Health website for $21.00. They do not offer any bulk purchasing packages or discounts.
Guarantee & Feedback
The manufacturer does not offer any sort of money-back guarantee. We would recommend contacting their customer service to inquire about a current return policy before purchasing this product. Consumer reviews are mixed about this cleanse. Some claimed that it had no effect on them and others claimed that it caused them to experience frequent diarrhea.
Our Conclusive Review About Designs for Health Colon Rx
This product appears to be decent. It contains two active ingredients that have been shown to contain properties that can make bowel movements more regular and easier to pass. You can take it for a short period of time to relieve constipation or daily for continual support but the manufacturer does not offer any bulk purchasing packages or discounts to make taking it daily financially easier. Designs for Health also does not offer any sort of money back guarantee to ensure the consumer's protection. This means that if you try this cleanse and experience adverse side effects or it simply does not work for you, you will not be able to get your money back. Taking into consideration all of these factors, Designs for Health Colon Rx appears to be too risky.
Bringing you top reviews and product analysis - Consumer Advisors.