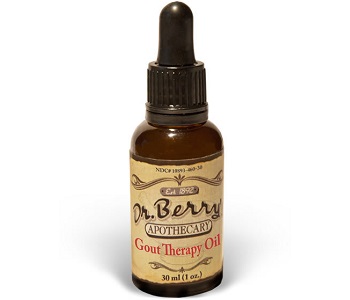 User Ratings (

0

Votes)

0
Dr. Berry's Gout Therapy Oil helps to suppress inflammation and joint pain caused by symptoms associated with gout. Created from 100% pure essential oils, this topical gout treatment is entirely natural and helps users experience a temporary reprieve from gout pain.
Ingredients
Arnica Montana: Helps alleviate discomfort and inflammation in joints and muscles.
Capsicum Annuum: Capsicum or pepper extract is known to be an effective ingredient when used for relieving pain.
Cypress Leaf oil – Increases local blood circulation while reducing stiffness in muscles and joints.
Eucalyptus oil – Anti-inflammatory and painkilling agent that additionally offers a cooling sensation to help soothe gouty joints when flare-ups occur. It eliminates uric acid deposits as well as detoxifies joints and muscles.
Hypericum: Reduces painful burning and is a considerable aid in the reduction of pain resulting from nerve injuries.
Pelargonium leaf oil – Alleviates inflammation and pain.
Peppermint oil – Found to be very successful in relieving painful gout symptoms.
Sesame seed oil – Provides nutrients to muscle tissues and bones while also supporting joint movement. Helps soothe afflicted areas by providing a warming sensation so that joints and muscles are able to move more freely without pain.
Dosage
The suggested dosage is 10-20 drops of oil which are to be applied topically to the affected area and massaged into the skin. Users can repeat this process 3-4 times each day as needed.
Side Effects
This gout treatment is considered to be safe to use as it does not have any known major side effects. Some people may experience skin sensitivity to the oil so it is best to perform a patch test prior to using this product. If skin irritation or a rash presents itself, discontinue use of the product. Since this product is intended for quick relief of gout symptoms like pain, users should not expect any long-lasting benefits from this treatment plan.
Price
The cost for this gout treatment product is $24.95, although it is possible at times to find this gout treatment aid at a discounted price of $19.95.
Guarantee
Although this is a natural product derived from essential oils which are known to be effective in controlling pain, the company offers no guarantees as to the effectiveness or quality of this product.
Conclusion Of Our Dr. Berry's Gout Therapy Oil Review
Eucalyptus, peppermint oil, and capsicum are all scientifically proven to lessen pain when used in accordance to the directions, and so this product will undoubtedly be ideal when used as a painkiller in the treatment of acute gout. In spite of this, unlike supplements such as GoutClear, it is not able to effectively treat or cure gout, nor is it able to reduce the instances of a gout attack from occurring. It also does not have the ability to keep uric acid levels in check or support its removal from the body.
Bringing you top reviews and product analysis - Consumer Advisors.