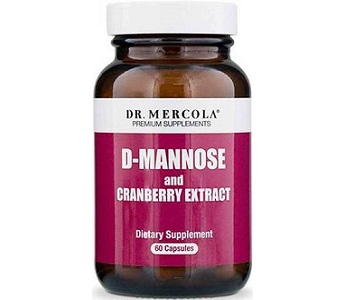 User Ratings (

0

Votes)

0
This review closely examines Dr Mercola D-Mannose with Cranberry, which is a natural formula that is designed to contribute towards the relief of a urinary tract infection. The manufacturer states that it does this by supporting urinary tract health, digestive tract health and supporting the immune system. This review focuses on the ingredients in this product to determine how effective it is at contributing to the relief of a urinary tract infection.
Ingredients
Bifidobacterium longum
Bifidobacterium lactis
Bifidobacterium bifidum
D-mannose
Cranberry extract
Mannose is a sugar that prevents harmful bacteria from binding to the urinary tract wall because it blocks the microscopic structures that they use for attachment. Cranberry extract contains a number of antibiotic compounds and antioxidants which reduce inflammation in the urinary tract.
We extensively researched the use of probiotic bacteria in the reduction of urinary tract infections,  and the main scientific research focuses on introducing these bacteria into the urethra and not into the intestine. In theory, the probiotic bacteria in this product could reduce levels of harmful bacteria in the gut and reduce the chance of them traveling via the external organs to the urinary tract, but there is little scientific evidence to support this.
Dosage
One capsule of Dr Mercola D-Mannose with Cranberry must be taken each day with the first meal. The manufacturer lists their ingredients as a proprietary blend so it is not possible to determine the amount of each ingredient in this product. We note that the mannose and cranberry extract are listed as a proprietary blend of 250 mg together, which means both of them are significantly below the recommended dosage of 500 mg each.
Possible Side Effects
The probiotic bacteria in Dr Mercola D-Mannose with Cranberry  may cause diarrhea or intestinal distress. If the symptoms do not go away in a few days, then use of the formula must be stopped and a doctor must be consulted. It is not recommended for pregnant or breastfeeding women to use this formula without consulting a physician first.
Price
One bottle of Dr Mercola D-Mannose with Cranberry can be purchased from the manufacturer for $19.97. They also offer a special where a customer can buy three bottles for $47.97. These prices do not include shipping.
Guarantee & Feedback
There is a satisfaction guarantee for this product. This guarantee is for customers who sign up for  the manufacturer's membership program. On the ordinary membership program, the customer has 90 days to return the product for a refund, and on the premium membership they have up to one year. The manufacturer's returns policy is not clear about whether this is for products that have already been opened and tried.
The manufacturer does not have a space for customers to post their reviews on their website. The majority of customer reviews on third-party retailer websites are positive but there are a few that complain that the product doesn't work.
Our Conclusive Review About Dr Mercola D-Mannose with Cranberry
The all natural ingredients in this product are quite well researched but the manufacturer offers them at a very low dosage which may cause this supplement to be ineffective. The price of Dr Mercola D-Mannose with Cranberry is quite reasonable, but the guarantee is a bit strange in the sense of needing a membership to obtain it. Essentially, customers have to pay more for a better guarantee. Customers are better off finding a better researched supplement that has a standard guarantee for all customers.
Bringing you top reviews and product analysis - Consumer Advisors.