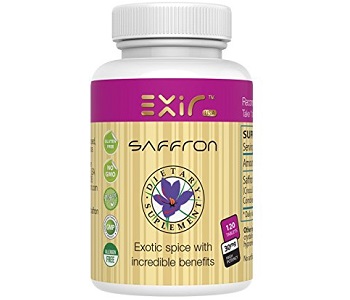 User Ratings (

0

Votes)

0
If you're looking for a natural method of losing weight, adding a saffron supplement to your daily intake is the way to go. Taking saffron helps limit your appetite and boosts your mood, among other health benefits, without adding foreign chemicals to your body. Read our review of Exir Saffron Dietary Supplement to see how effective this brand is compared to others on the market.
Ingredients
The only active ingredient in this supplement is saffron, which is taken from the saffron flower. Saffron contains two chemical elements: crocin, which is the color of saffron, and Safranal, which has all the medicinal properties of the plant. You can read about the many benefits of saffron on Exir's website; some include maintaining optimal blood pressure, raising serotonin levels, and antioxidant properties. It's important to find a saffron supplement with no added ingredients or fillers, so ensure to read the label before purchasing.
Dosage
The suggested dosage for this supplement is 1 tablet up to three times a day. One tablet only contains 30 mg of saffron, unlike other products that contain up to 400 mg of saffron. Some research studies have found that an amount lower than 350 mg will be ineffective, Other dosage instructions were not listed, which is unusual as it is suggested to take a saffron supplement with food.
Price
A bottle containing 60 tablets costs $22.50 straight off Exir's site, and a dollar more from Amazon. If you want to buy 120 pills for one bottle, it costs only $39.00. The biggest discount is for a bottle with 180 pills for $54.00. Free shipping is offered throughout the United States and other US territories like Puerto Rico and Guam.
Guarantee & Feedback
Unfortunately, after extensive research, we could not find any guarantee offered if a customer is unsatisfied with the results of this supplement. This is unfortunate because this seems like an effective product, but it is a deterrent to purchasing any product without having a guarantee to fall back on in case you are unhappy with the results. Other saffron products under other brands have a 90-day guarantee or even a year guarantee to return any used bottle if the supplement wasn't working as expected.
After looking through customer reviews, we have found mostly positive feedback on the efficacy of the pills. Customers claimed that the pill worked as advertised and arrived in a timely manner. Negative comments include observations that the product has not made any difference after several months.
Our Conclusive Review About Exir Saffron Dietary Supplement
Not only is the website for Exir Saffron Dietary Supplement well-written and informative, but this saffron supplement itself seems reliable and safe to use. Compared to other products, this supplement has a great bulk discount and includes free shipping, which is always a bonus. However, there is no guarantee or refund available, unlike other products on the market which promise a full year guarantee for unsatisfied customers. Additionally, there is some speculation of the small amount of saffron provided in the supplements; 30 mg may be too little to have any medicinal benefits. A product with 400 mg should have more positive results.
Bringing you top reviews and product analysis - Consumer Advisors.