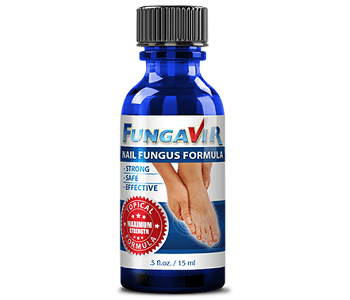 User Ratings (

0

Votes)

0
When writing this Fungavir review, we had one goal in mind: To determine if this product is the best option available to treat nail fungus. Beyond that, we were looking for a safe, natural option. We were also looking for something that worked hard, and worked fast. Fungavir met all of these requirements and more! When looking for a natural way to treat tough nail fungus, you don't need to look any further.
Ingredients
Fungavir offers a wide variety of ingredients, all designed to safely, effectively, and naturally treat your nail fungus. It contains undeclyenic acid (USP25%), which is a potent anti-fungal at the maximum strength allowed. It also includes mineral oil, sweet almond oil, and flax seed oil to treat rough, dry, or irritated skin, as well as minor skin irritations. It also contains tea tree oil which helps to fight fungus, and aloe vera leaf extract acts as a natural antibacterial. This product contains 18 natural ingredients in total that have all been tested to help treat nail fungus.
Dosage
When using this product to get rid of nail fungus, you should keep in mind that it takes a while for any product, including a natural one, to get rid of this fungus. It may take up to a month to start seeing any improvement in the fungus, and it could take anywhere from three to six months for your fungus to disappear completely. When using Fungavir, apply twice a day, every day, and allow it to absorb for at least half an hour. For best results, use a nail file to roughen the nail surface weekly.
Possible Side Effects
Unlike a lot of harsher products, Fungavir seems to be a very safe option for you to choose. However, as with all health products, medicines, and supplements, if you have any doubts, you should speak with a health professional before use. Use caution when using on children. Do not allow it to be swallowed or come into contact with your eyes. If swallowed, drink water and call your physician. If it gets into your eyes, rinse with water and call your physician.
Price
Because you have to use Fungavir for a long period of time, finding a good price for it is essential. Thankfully, this product has quite a few great sales prices when you buy online from the manufacturer's website. The price for a single bottle, normally $65.95, will cost you only $49.95. The Mild Program option lets you buy one bottle for the regular price, and get one 50% off. The Aggressive Program offers a buy two, get two free option for a total cost of $99.80. The most intensive option, the Prevention Program, is a limited-time offer that allows you to purchase three bottles, and get three free for a total cost of only $139.70!
Guarantee & Feedback
All of the reviews and testimonials reviewing Fungavir show that it is an excellent option to choose when treating nail fungus. And it's basically risk-free. If you aren't happy with this product, you can return it within 60 days for all of your money back.
Our Conclusive Review About Fungavir
If you're looking for a safe, natural way to treat your nail fungus, then you should consider purchasing Fungavir. This all-natural option is gentle, but effective, in eliminating nail fungus. It's price-conscious, offering several sales options, and it comes with a 60-day money-back guarantee. This really seems to be a great product!
Bringing you top reviews and product analysis - Consumer Advisors.