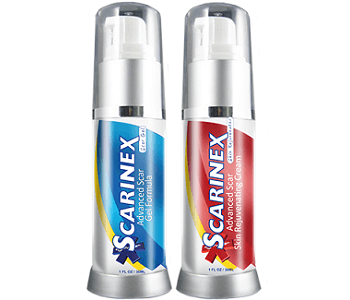 User Ratings (

0

Votes)

0
This review of Scarinex looks at it's unique, dual-formula approach to target and erase the appearance of scars. The proprietary blend of ingredients is carefully formulated for maximum effectiveness, no matter what type of scar you're treating. The Scar Gel is formulated with medical-grade silicone to create a protective, moisture-locking barrier, while the Skin Rejuvenator helps to encourage cell renewal to safely fade away your scars. We'll look at more of the details of the product, and why we think it's so effective.
Ingredients
The removal gel is made of a blend of five different silicones (dimethicone, cyclomethicone and dimethiconal, cyclopentasiloxane, and crosspolymer), the same ingredient prescribed by doctor's and plastic surgeons to reduce the appearance of scars. Unlike other similar products, Scarinex's formula doesn't dilute the silicone, so it delivers the maximum benefits. The medical-grade silicone used in the Scar Gel creates a protective barrier on the skin to lock-in moisture, and protect it from environmental contaminants. It also helps to reduce redness common in many scars, and seal the Rejuvenator Cream into the skin.
The second step of Scarinex's treatment is the Rejuvenator Cream, which not only helps to fade the scar, but also add nutrients back into the skin, aiding in cell regeneration which heals the skin effectively over time. It contains ingredients such as:
Safflower seed oil
Vitamin C & E
Dosage
It is recommended to apply the Scar Gel 3-4 times per day for maximum effect on scar tissue, and continue use for 3-4 months, or until you reach the desired level of scar removal. The Skin Rejuvenator can be applied twice per day, in the morning and evening, or before applying the Scar Gel each time.
Possible Side Effects
One of the best parts about this product is the lack of possible side effects. This makes it safe for both adults and children, even over the recommended 3-4 months of continued use. This is because of the high-quality ingredients and careful formulation.
Price
You can order the Scarinex Scar Gel and Skin Rejuvenator online individually, or as part of a pack:
One bottle of either will cost you $49.95 each.
A pack of one Scar Gel and one Skin Rejuvenator will cost you $69.90.
If you purchase both together, there are a few different multi-buy options we found that offer significant savings:
Buy 2, get 2 free (2 Scar Gels and 2 Rejuvenators) for $99.80.
Buy 2, get 2 free (3 Scar Gels and 1 Rejuvenator) for $99.80.
Buy 3, get 3 free (3 Scar Gels and 3 Rejuvenators) for $139.70.
Guarantee & Feedback
Scarinex offers a 60-day money-back guarantee, which really indicates that the manufacturer stands by the product and that it is truly effective. Customer reviews are incredibly positive and include many different types of scars successfully removed, ranging from acne scars, to stretch marks, to surgical scars.
Our Conclusive Review About Consumer Health Scarinex
We think the medical-grade ingredients used in this product are the main reason it is so effective at removing scars, especially when combined with the carefully formulated Skin Rejuvenator cream. What is especially impressive is Scarinex's ability to treat such a wide variety of scars safely and effectively. This is backed by its amazing 60-day product guarantee, and impressive customer reviews.
Bringing you top reviews and product analysis - Consumer Advisors.