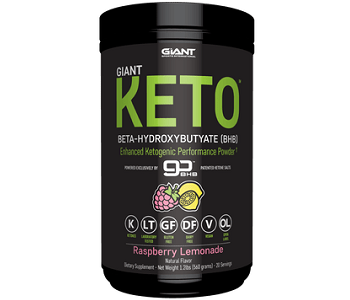 User Ratings (

0

Votes)

0
The following review is for a product called Giant Sports International Giant Keto. It is a supplement that is intended to induce ketosis. In other words, it helps improve blood ketone levels, physical performance, and mental focus and energy, while it also helps to burn fat. According to the manufacturer, this product will put your body into a metabolic state of ketosis within 60 minutes of taking it.
Ingredients
Magnesium
Sodium
Potassium
Calcium
L-Carnitine L-Tartrate
Beta-Hydroxybutyrate Blend
Vitamin C
Vitamin D
Vitamin K
Vitamin B6
Vitamin B12
Beta-Hydroxybutyrate (BHB) is one of the three ketone energy molecules that your body produces when it is using fat instead of carbohydrates. BHB is the primary ketone that is used for energy due to its stability. All the other vitamins and minerals in this supplement work in support of this molecule.
Other ingredients: Citric Acid, Malic Acid, Silica, Vegetable Juice, Stevia rebaudiana and Natural Flavours.
Dosage
Pour one level scoop into 12 to 16 ounces of cold water, then shake it for 5 to 10 seconds and drink immediately. On the days that you workout, drink it 15 to 60 minutes before your workout. On the days that you are not training, take it in the morning 30 to 60 minutes after breakfast. A second dose may be taken each day after consuming a meal with carbohydrates.
Price
This supplement can be purchased through the manufacturer's website for a discounted price of $29.99.
Possible Side Effects
We could not find information related to side effects of this product. However, BHB is known to cause side effects in the initial week as the body adjusts from carbohydrate metabolism to fat metabolism. The side effects that you might experience include mood swings, irritability, keto flu and lethargy. Giant Keto is not intended for individuals who are under the age of 18, those who are trying to get pregnant, pregnant, breastfeeding, taking medication or have an existing medical condition such as heart, liver, kidney disorder and diabetes. Consult with a healthcare provider before taking this supplement.
Guarantee & Feedback
We did not find any information about a money-back guarantee, which is concerning, because the lack of guarantee gives an impression that the manufacturer does not really believe that their product works. However, when we read consumer reviews, some consumers indicated that the product worked for them, which is good. Unfortunately there were also negative reviews where consumers complained about the taste being too sour, bitter and unbearable. It also appears that it raises blood sugar levels.
Our Conclusive Review about Giant Sports International Giant Keto
Sports Research Keto Plus seems to be a promising product, considering that it contains a BHB, which is known as the main molecule that is used for energy. The price is reasonable, and we like that there are consumers who are happy about the product. However, there are many individuals who will not be able to use this product, such as those who are diabetic, and those who have kidney and liver disorders. We also don't like that many consumers complain about the taste. It would not be a good idea to buy something that has a bad and "unbearable" taste as some consumers put it, especially knowing that there is no money-back guarantee offered by the manufacturer. Rather buy a product that you will enjoy taking everyday, or at least a product that is backed by the manufacturer's guarantee so that you can return it if you are unhappy.
Bringing you top reviews and product analysis - Consumer Advisors.