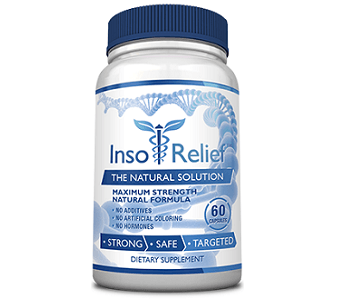 User Ratings (

0

Votes)

0
This is an in-depth review of InsoRelief. The manufacturer claims that InsoRelief is one of the best, if not the best, Insomnia relief medicine out in the market today. They claim that most of the other Insomnia treatments are not effective because they do not contain the right ingredients and in the right dosage.
InsoRelief is a dietary supplement that helps you eliminate those sleepless nights (commonly known as Insomnia). The manufacturer's of InsoRelief claims that this product contains 11 of the most potent blends to help you get rid of your insomnia. Read on to find out if InsoRelief is one of the most potent medicines for treating Insomnia.
Ingredients
InsoRelief contains:
L-Ornithine
Chamomile
Lemon Balm Extract
Hops Flower
Magnolia Bark
Jujube Extract Seed
Reishi Mushroom
Melatonin is a hormone that aids to promote good and healthy sleep cycles. Valerian and Hops Flower has been scientifically known to help you sleep faster. Magnolia bark is a very famous Chinese medicine know to heal various ailments such as nausea, insomnia, and weight loss.
Dosage
For adults, it is recommended to take 2-4 capsules an hour before sleeping.
Possible Side Effects
InsoRelief is made of 100% all-natural ingredients and have no documented side effects. Although, it is stated in the label that if you're pregnant, a nursing mother, under the age of 18, or a person who is suffering from a medical condition, it is advised to consult a doctor first before use.
Price
The manufacturer's of this product gives a lot of bundles for customers to save a lot of money. If you buy their 6-bottle bundle, you will only have to pay $139.80. If you buy their 5 bottle supply, pay only $124.75. Pay only $111.80 for 4 bottles, $95.85 for 3 bottles, $69.90 for 2 bottles and if you only want to try this product out, pay only $49.95 for one bottle.
Guarantee
The manufacturer gives customers a good 60-day money back guarantee. If you are unhappy with the product, you can return the bottles and you will get your money back, without any questions! The customer should shoulder any shipping costs.
We've also found a lot of good reviews for this product. Some people claim that they have been suffering from chronic insomnia, but after taking InsoRelief, they've been sleeping like a baby. Some people have also reported that after taking this product, they didn't experience insomnia ever since.
Conclusion Of Our Consumer Health InsoRelief Review
We've found out that InsoRelief is indeed one of the most effective insomnia treatment supplements out in the market today. InsoRelief contains 11 well-researched ingredients that have been scientifically-proven to fight Insomnia. With a 60-day money back guarantee, and that all InsoRelief supplements are created in a cGMP-certified lab, people can be assured that this product works. If somehow it doesn't work for you, you can always choose to return the product and have your money back. If you're looking for a good insomnia relief product, then this product is one of the good choices.
Bringing you top reviews and product analysis - Consumer Advisors.