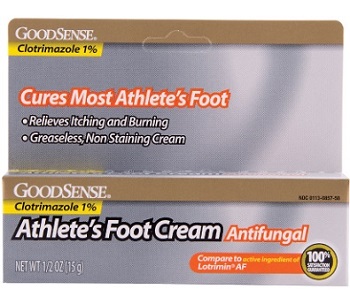 User Ratings (

0

Votes)

0
In this review, we will be taking an in-depth look at Good Sense Athlete's Foot Cream, a product from Good Sense. According to the manufacturer, this product offers relief from the painful and itchy symptoms associated with Athlete's foot. This fungal infection commonly affects the skin between the toes. This particular area often stays dark and damp, which makes it the perfect breeding ground for harmful fungus and bacteria. Additionally, this product may bring relief from jock itch and ringworm.
Ingredients
The primary active ingredient in this cream is clotrimazole, which is well known for its ability to get rid of fungi. Other ingredients included in this product are benzyl alcohol, cetostearyl alcohol, cetyl esters wax, octyldodecanol, Polysorbate 60, purified water, and sorbitan monostearate. At first glance, we believed that this was quite a good combination of ingredients that reduce inflammation while killing off infection. However, there were a few things that we found concerning. There are quite a few ingredients included in the formula that have no purpose other than acting as fillers and binders. The significant number of artificial ingredients included in this product also alarmed us.
Dosage
The manufacturers of this product recommend that you wash and dry the affected area and apply at night and in the morning, particularly between the toes. They also recommend that you wear well-fitting ventilated shoes and change shoes and socks at least once daily. For infections on your feet and body, they recommend that you use this product for four weeks. For infections that affect the underwear region, you should use it for two weeks.
Price
Unfortunately, we were unable to find this product on the manufacturer's website. We were also unable to find this product on a variety of other online stores. This is rather unfortunate as it means that we will not be able to give you an indication of how much you can expect to pay for a product like this. You should probably also count on paying extra for shipping fees so that your purchase reaches you.
Guarantee & Feedback
Unfortunately, the manufacturers of this product do not offer any guarantees or return policies for this product. We were rather concerned to discover this as guarantee always reassures us that the manufacturer is confident in their product. A guarantee indicates that the company believes they are producing the best possible product. This is rather concerning as there is no indication of whether this product is effective and well liked by the people who buy it.
Our Conclusive Review About Good Sense Athlete's Foot Cream
When we completed our review of this product, we concluded that it was effective for relieving and preventing fungal infections. It contains excellent active ingredients and thorough instructions for use. However, there are quite a few ingredients that are unnecessary as they act as fillers and binders. Additionally, many of the ingredients are artificial. We were also shocked to learn that the manufacturer does not offer any guarantee for the people who buy this product.
Bringing you top reviews and product analysis - Consumer Advisors.