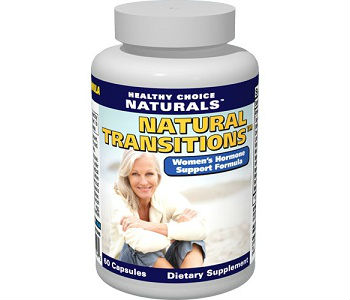 User Ratings (

0

Votes)

0
With so many choices today for supplements to support women experiencing menopausal symptoms, which one should women choose?  Healthy Choice Natural Transitions has been shown to help women fight back those menopause symptoms and relieve them naturally. Many problematic symptoms experienced are: mood swings, irritability, anxiety, fatigue, memory lapses and loss of concentration.  Additional problems may include: weight fluctuations and bloating, hot flashes, night sweats and sleeplessness, low libido, vaginal dryness and irregular periods.  Often, these symptoms can be present for up to 15 years.
Ingredients
According to their website, Healthy Choice Natural Transition supplements are made from carefully selected herbs specificaly selected for their role in supporting balance and well-being during this most tramatizing time in your life.  Check out the this list for those all important included herbs:
Black Cohosh – used to help support menopausal symptoms in women.
Dong  Quai – found to be useful in supporting female cycles. Helps reduce menopausal conditions such as vaginal dryness and hot flashes.
Licorice Root – helps with menstrual and menopausal problems and helps increase sexual health.
Soy Isoflavones – Relief of hormone based symptoms of menopause like hot flashes.
Vitex Berry – has the ability to relieve different kinds of menopausal symptoms.
Red Clover – used to fight hormonal imbalances.
Sage Extract – manages menopausal symptoms such as hot flashes and night sweats.
False Unicorn – reduces menopausal symptoms and used to help maintain hormone levels, helps with irregular menstruation and vaginal discharge.
Squaw Vine – helps ease hot flashes and night sweats.
Blessed Thistle – is considered a natural remedy for menopause and menstrual cramping.
Red Raspberry Extract – stops cramps and helps control menstrual bleeding.
Mexican Wild Yam – helps balance menstrual cycle.
There are other ingredients in the products such as gelatin, microcrystalline cellulose, vegetable magnesium stearate and silicon dioxide.
Dosage
There are 60 capsules in a bottle and the recommended dosage would be 2 capsules daily with a meal. Studies of the product show that best results will be seen after 4 to 5 weeks of use. It is also strongly suggested that one should not take more than 2 capsules a day. The product also has a warning for those who are allergic to soy products.
Price
The cost of this product is 22.00 USD for 60 capsules to be taken twice daily making this a 1 month supply.  The company offers you a discounted price for purchasing through them, as this would normally cost 29.95 USD.
Guarantee
The product also offers a 90-day 100% money back guarantee.
Conclusion Of Our Healthy Choice Naturals Natural Transitions Review
Healthy Choice Natural Transition may be considered as one of the few supplements that would help women with menopause symptoms since it is made of all natural ingredients plus they also offer a 90-day money back guarantee. With such a great list of useful herbal ingredients one must question is it the most efficient formula available.  Women suffer various symptoms throughout the day and finding a product designed to give you 24 hour support is of the utmost importance.
Bringing you top reviews and product analysis - Consumer Advisors.