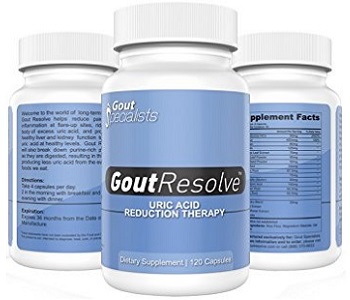 User Ratings (

0

Votes)

0
This is a review of the product Gout Resolve. Many product claim to manage gout effectively. This review will examine the maker's claims about this product. The manufacturer states that this product is claimed to provide uric acid relief. Uric acid is controlled by this product, and helps to reduce the product of new uric acid. More so, this product helps to reduce inflammation and pain. Lastly, this product provides kidney and liver support, which both help to maintain a healthy uric acid level.
Ingredients
Two capsules provide the following elements, namely: bromelain (50 mg), quercetin (120 mg), artichoke leaf extract (75 mg), celery seed powder (50 mg), yucca root (100 mg), turmeric root (87.5 mg), ginger (75 mg), milk thistle (80 mg), alpha lipoic acid (150 mg), dandelion root (62.5 mg), burdock root (62.5 mg), and folic acid (400 mg). In additionally there is a proprietary blend (30 mg) that consists of skullcap extract, passionflower extract and chamomile. The other non-active ingredients are rice flour, magnesium stearate, and gel capsules.
The substance, bromelain, which is a protein-digesting enzyme, breaks down protein. Ingredients for example yucca root; quercetin, turmeric root, as well as ginger are anti-inflammatory agents. In addition, dandelion root, artichoke leaf extract, plus alpha lipoic acid assist to promote a healthy liver, whereas celery seed powder helps to support healthy kidneys. The substance, milk thistle is well known to cleanse the body from toxins; burdock root detox the blood. On the company's website it is stated that this supplement contains B6, but the label of the bottle indicates that the vitamin used is B9.
Dosage
The recommendation from the manufacturer is to take two (2) capsules each day. However, no more information is provided. Precise instruction is needed to deal with gout, as this product is meant to maintain uric acids at a healthy level.
Price
Gout Resolve may only be purchased online, direct from the manufacturer. There are three package deals, a single bottle (60 capsules) for $57.00, a three-months' supply for $111.00, and the last option is a subscription contract. However, with the last deal the buyer is locked in after the free 14-day trial deal. After 14 days, the manufacturer automatically ships a month's supply monthly, and deduct an amount from the buyer's credit card, until the buyer stops the subscription. Still, with the subscription offer, one bottle costs $37.00. All package deals include a shipping fee of $6.97.
Guarantee & Feedback
There is a satisfaction guarantee provided by the manufacturer of this product. Unsatisfied consumers may return the product within 60 days of purchase for a refund. Shipping and handling fees are not refundable.
Our research found several positive reviews on the company's own website, but on third party sites such as Amazon where it is also marketed, there are aren't any.
Our Conclusive Review About Gout Specialist Gout Resolve
Gout Resolve has some positives. For example, there is a guarantee on the product. Additionally, there is a price cut on three bottles. However, on the negative side, the formula lacks the inclusion of the element tart cherry extract. Tart cherry extract can reduce pain and reduce uric acid levels for the period of a gout outbreak. This formula also contains gelatin. Therefore, this product is not suitable for vegetarians.
Bringing you top reviews and product analysis - Consumer Advisors.