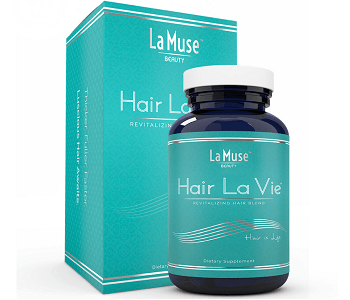 User Ratings (

0

Votes)

0
Who does not want a thicker, silkier and longer hair? Revitalizing Hair Blend by Hair La Vie claims to contain essential elements to help you achieve vibrant, healthy and beautiful hair.
The manufacturer of this product uses natural ingredients to give your crowning glory the best treatment it deserves. Check out our Hair La Vie Revitalizing Hair Blend review to see if this dietary supplement is the best product for you.
Ingredients
This product takes pride in its all-natural ingredients to boost your hair. It works in a three-step process: scalp hydration stage, root reinforcing stage and the unbreakable hair stage.
Healthy hair should come from a healthy scalp so first; your scalp is exfoliated and hydrated. Then it will help nourish your hair follicles and lastly, you will get strong and healthy strands of hair.
These natural ingredients are:
Pantothenic Acid
Vitamin A
Vitamin K
Flax Seed Oil
B-Complex Vitamins
Vitamin B3
Zinc
Vitamin B1
Vitamin B6
Borage Oil Powder
Vitamins B2
Kelp
Vitamin E
Iron
Hydrolyzed Collagen
Bamboo Extract
To sum it up, these ingredients are key to having a healthy hair.
Dosage
It is not exactly stated how you should take this supplement. However, the product's label states that a serving size consists of two capsules.
Possible Side Effects
We were not able to find specific information as to the possible side effects when taking this supplement. As the ingredients used are completely all-natural, no reports of major side effects have been made by users.
However, just like in any other supplement, you should always take caution and follow the recommended dosage. Always consult with your physician first before taking this supplement, especially if you are pregnant, breastfeeding, on dialysis, taking medication for seizures, or have been on a long-term course of antibiotics.
Price
The manufacturer's suggested retail price for one bottle is $69 which is good for 30 day supply. If you purchase directly from the manufacturer's website, you can save $21 as you can get it for only $48.
The more bottles you are purchasing, the bigger your savings. If you purchase 3 bottles from their website, you will get it for only $124 ($41.33 each). This offer also comes with free shipping.
Save $195 plus free shipping by purchasing 6 bottles which is 180-day supply for only $219 ($36.50 each).
Guarantee & Feedback
It's hard to put your faith on a product but with Hair La Vie, you can feel secure and confident in your purchase. The company offers a 90-day money back guarantee with all of their products. If you are not satisfied with the product, they will refund your money 100%, whether the product is used or unused, opened or unopened.
Conclusion of Our Hair La Vie Revitalizing Hair Blend Review
What's great about this product is that aside from the 20 natural ingredients used, they take pride in the fact that no artificial or synthetic ingredients were used. Customer satisfaction is also high as most of the reviews made by consumers were positive. In addition, the 90-day money back guarantee will give you a feeling of security.
On the other hand, the product is always sold out due to low inventory. There are also some hair products that are more affordable than this one. This product does also not provide much information about its manufacturing process and it does not seem to come with a GMP certification for safety and quality.
Bringing you top reviews and product analysis - Consumer Advisors.