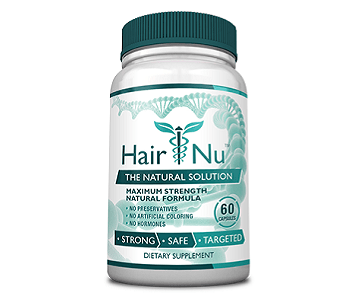 User Ratings (

0

Votes)

0
This review will provide potential consumers with information and advice on HairNu hair growth supplement. After extensive research through analyzing the facts about this treatment and the public opinion from current users, we have established that this is one of the top hair growth supplements available. This type of treatment focuses on the problem itself as it first stops the cause for hair loss and reduces the size of areas that are going bald. The product then stimulates and rejuvenates the follicles in order to increase hair growth. Read on to learn more about HairNu and how it can restore health to your hair.
Ingredients
HairNu consists entirely from natural ingredients that are carefully selected for their properties as well as for their ability to complement each other. Some of these natural ingredients immediately halt the loss of hair by reducing the follicle blocking hormones that diminish growth, while other elements create a constant healthy environment that stimulates the growth of a thicker, stronger hair.
Here are the main ingredients:
Vitamin A
Vitamin E
Vitamin B2
Vitamin B12
Pantothenic Acid
Zinc
Iron
Copper
Folic Acid
Selenium
L-Cysteine
L-Methionine
MSM
Silika
Dosage
The instructions accompanying this treatment are easy to follow and straightforward. The consumer is advised to ingest two pills on a daily basis together with their meals. For maintaining the best performance the user should take only one capsule in the morning and one in the evening, both before his meal.
Possible Side Effects
The hair growth inducing treatment poses no dangers and no side effects as it is a dietary supplement created with natural ingredients that should not cause any symptoms. If the consumer is a pregnant woman, she should contact a professional physician regarding the usage of this drug.
Price
HairNu is can be ordered as a single bottle or as various packages containing several months worth of supply. One container is listed at the price of 49.95$ but the price significantly drops as the manufacturer is offering heavy discounts when purchasing several months supplies. Just by ordering two bottles the price already drops to 34.95$ each, while when purchasing 6 packs further lowers the price down to 23.30$. By comparison, the the customer receives over 50% discount when ordering six months supply.
Guarantee
A 60 day return policy is used to guarantee the quality of the product and the service that is being offered. The manufacturer allows customers to return any opened and unopened pack back for a full refund, excepting the delivery fees. The fact that clients can be reimbursed even for used bottles is something highly rare that should only reinforce the idea that this is a quality product.
The hair growth treatment is also positively viewed by a great number of customers as this product receives numerous reviews. They overwhelmingly positive as customers happily described how the treatment has stimulated their hair growth.
Conclusion Of Our Consumer Health HairNu Review
HairNu is a supplement containing over 20 pure ingredients that are clinically proven to stimulate hair growth. Customers support this fact as they repeatedly mention through their reviews how the product works in halting their hair loss and stimulating growth. Backed by  a risk free guarantee and offered at unbeatable prices, this treatment is highly accessible for prolonged use.
Bringing you top reviews and product analysis - Consumer Advisors.