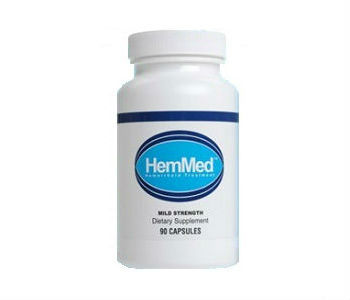 User Ratings (

0

Votes)

0
A classic, plain white label identified a discreetly small bottle of HemMed. Claiming 5-7 day results, the triple action therapy hemorrhoid management program states that it will rapidly shrink hemorrhoid tissue and soothe and reduce inflammation.
Naysayers are critical of the product name especially as far as the internet is concerned. When you 'google' "hemmed" you get much more than what you may be looking for.  But that's not reason enough to dismiss a product that, if effective, can reduce the misery and suffering causing by hemorrhoids, so let's delve deeper.
Ingredients
HemMed is comprised of:
Witch hazel leaf*– 800mg
Horse chestnut leaf*– 200mg
Ginger root– 100mg
Blonde Psyllium*** – 100mg
Hesperidin – 100mg
Diosmin** – 300mg
*Witch hazel and horse chestnut leaf, two of the main ingredients, each come with a risk of vomiting and upset stomach.
**You should not take diosmin for more than three months without medical supervision.
***Some people experience an allergic response to blond psyllium.
Dosage
The recommended dosage is 3 capsules taken daily, taken  with meals.  Side-effects of this proprietary blend can include:
Nausea
Diarrhea
Abdominal pain
If you have diabetes, then you will need to check your blood sugar level regularly while taking this medication. Horse chestnut is known to lower blood sugar levels, and should not be taken with certain diabetic medications. Anyone with allergies to latex should not take supplements containing this herb without first consulting a medical professional.
Price
Different treatment options are available.  The least expensive,  one week, treatment  is priced at $39.95.  Each bottle contains 90 capsules. Although promising is to heal hemorrhoids in 5-7 days, the product website advises a two week treatment, thereby boosting the cost to $59.95.
On that basis, the relief delivery doesn't seem so quick.  You're taking the same amount of pills as required by other hemorrhoid preparations, so this product fails to differentiate itself from the hemorrhoid 'herd.'
Guarantee
A 60 day no-risk guarantee applied. While this guarantee is a smaller window than competing brands, if practiced to the letter of its promise, the 60-days is a generous offer.
Conclusion Of Our HemMed Review
Consumer feedback is conspicuously absent for HemMed.  You can only rely on the manufacturer's representations which doesn't make us feel all safe and secure.  Do you really want to undertake a 'trial run' when you're already suffering the inconvenience and downright pain of hemorrhoids?  Most of us prefer quick and safe, unmitigated relief.  We don't want to read tons of fine print and product reviews.
Bringing you top reviews and product analysis - Consumer Advisors.