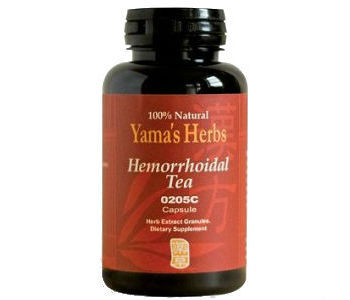 User Ratings (

0

Votes)

0
Hemorrhoidal tea capsules claim to be 100% natural, implying that it's safe. Although there is no curative claim, the pills are said to be "good for" rectal bleeding and pain, chronic and acute hemorrhoids and pain and bleeding both during and after bowl movements.Unlike many competitors, Hemorrhoidal Tea Capsules seems to 'underpromise.' That doesn't necessarily generate consumer confidence.  What should you expect if you take Hemorrhoidal Tea for your ailing hemorrhoids?
Ingredients
Hemorrhoidal Tea lists only active, not all, of its ingredients.  You have no idea what the 'inactive' ingredients are or whether or not you may be allergic to any of them.  The tea contains:
Tang Kuei -suppress pain by dispelling blood.
Bupleurum and Cimcifuga- lift up Yang Qi.
Rhubarb and Scutellaria- remove fever, toxins, and dampness.
Tang Kuei- In Chinese Herbology Term- Tang Kuei promotes Dispel Blood, Open Meridians, and Stop Pain.
Bupleurum and Cimcifuga- supports Yang Qi and Qi performance.
Rhubarb and Scutellaria- remove fever, toxins, and dampness.
Of additional concern is the absence of content amounts of each of the listed ingredients.  As well, the noted inclusion of Dong quai is curious.  Dong quai has definitely not been shown to support hemorrhoid relief so why would you want to take it for that purpose?
Dosage
Recommended dosage for the tea is 3 capsules, taken 2-3 times daily.
Due to the unique herbal blend and absence of a complete ingredients list, side-effects may include:
Ringing in the ear
Trouble sleeping
Liver disorders
Loss of appetite
Despite the known, recorded medical side effects attributable to its listed ingredients, Hemorrhoidal Tea states that their tea 'is free from side effects associated to synthetic drugs.'
Price
One bottle of Hemorrhoidal Tea is costs $38.00 and includes 90 capsules. These pills are unavailable in larger money-saving quantities. If the recommended dosage is ingested, you can expect a single bottle to last approximately two weeks.
Guarantee
We were not able to locate any type of guarantee or refund policy about Hemorrhoidal Tea.
Conclusion Of Our Hemorrhoidal Tea Capsules Review
Even with its humble claims, it's difficult to feel confident that you will obtain the desired hemorrhoid relief when using Hemorrhoidal Tea.  There is little documentation, absent transparency of ingredients and virtually no independent reviews. The stated 2-week time period is a considerable time to wait for relief if you are suffering the misery of nasty hemorrhoids.
The lack of reviews says it all. Either people aren't purchasing this product, or those who are, are not seeing enough results– good or bad–to compel them to leave feedback. It's tough to know if you should take a gamble or stick to a pill with an actual reputation.
Bringing you top reviews and product analysis - Consumer Advisors.