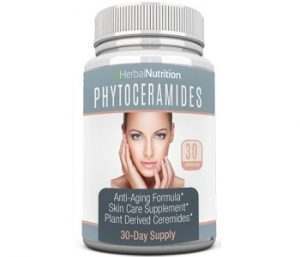 User Ratings (

0

Votes)

0
The major and largest organ of our body is the skin and when we age, it's probably the organ that shows the effects of aging most. Skin is composed of protein and water to a large degree and when the water content decreases the skin becomes rough and saggy and we get fine lines, wrinkles.
This review looks at Herbal Nutrition's Phytoceramides nutritional supplement. It claims to provide a "face-lift" without the surgery, helping to maintain the skin's suppleness. It also claims to help renew skin cells protect them from UV rays and pollutants. The rice-based formula is said to be the particularly effective for anti-aging and making users look younger. Read our review below to get our take on this product.
Ingredients
Vitamin A – 5000 IU
Vitamin C – 60 mg
Vitamin D – 40 mg
Vitamin E – 30 mg
Phytoceramides – 40 mg
Other ingredients are Rice Flour and vegetable Cellulose
The main ingredient is Phytoceramide derived from rice. The manufacturer's website goes to great lengths comparing rice and wheat based formulas and concludes (not surprisingly) that rice-based formulas are proven to be the best. Phytoceramide hydrates the skin from inside and helps to increase the lipids in the skin. This increase along with a boost in collagen promotes healthy, younger looking skin.
The vitamins included are provide antioxidant properties which help the skin to renew. In addition, they are good for your overall health, which should be reflected in the health of your skin as well.
Dosage
On the official website, it is recommended that user should take one capsule, preferably with a meal, every day. The recommended dosage should not be exceeded to avoid any complications. The manufacturer claims that users should start to see results within 4 – 8 weeks of regular use.
Pregnant or lactating women or anyone suffering from a medical condition should consult a physician before taking the supplement.
Possible Side Effects
This product is a rice-based formula and gluten free so possible side effects like allergies which may be more common in wheat-based products are not an issue here.
Price
When researching this article we found you could buy two 30-day bottles from the manufacturer's website for $26.95, with free shipping. Three bottles can be had for $36.95 and four cost $46.95 which saves you a couple of dollars per bottle over the two-bottle package.
Guarantee & Feedback
Customers are covered by a 60-day money back guarantee. As there are no details about the condition of the bottles accepted back, we assume the company accepts back opened/used product, but this should be confirmed if that is a concern for you.
Customer reviews are generally positive for this product.
Our Conclusive Review About Herbal Nutrition Phytoceramides
Phytoceramides from Herbal Nutrition looks like a decent product. The ingredients are natural and most customers seem pleased with their purchase (if customer feedback is anything to go by). The manufacturing of the product is GMP certified.
One drawback we do see with this product is the fact that you are forced to buy two bottles at a minimum. We'd like the option of a single-bottle purchase and the overall reduced cash layout up front.
Bringing you top reviews and product analysis - Consumer Advisors.