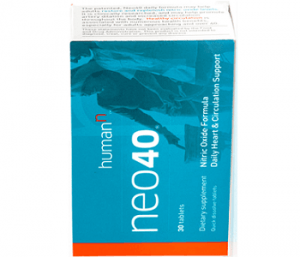 User Ratings (

0

Votes)

0
This is a review for HumanN's Neo40, a dietary supplement proven to increase nitric oxide production to improve circulation and artery health. It also results in healthy blood pressure, and maintaining a healthy heart. The body naturally produces NO, however by age 40, the production slows and this impacts the cardiovascular system negatively. In this review we will evaluate this supplement so you can decide if it is beneficial for you.
Ingredients
While HumanN's Neo40 website does not include any type of label, we were able to find the label information via a third party website also selling this product.
Vitamin C, 100mg
Vitamin B12, 50mcg
Folate, 400mcg
Proprietary blend of Nitric Oxide, 425mg

Beet Root Powder
Hawthorn Berry Extract
Sodium Nitrite
During our research of best uses of Nitric Oxide, we also came upon key ingredients that should have been included in the blend, such as an L-arganine blend of AAKG, AKIC, MONO & MALATE. This would increase the blood flow and strengthen the cardiovascular system.  Moreover, while this blend does have Beetroot which is known to help provide high levels of nitrates that can convert into nitric oxide, it is missing an herbal blend which supports this process, such as Pine Bark, Fenugreek, Bullhead, Avena Sativa, Quercetin and Eurycoma Longifolia.
Dosage
Again, this information was not listed on the manufacturer's webpage, however, we were able to find that users may take two tablets daily as long as they are at least 12 hours apart. This should be done for the first 30-45 days which is considered the restoration-loading phase. After this time period, only one tablet is taken daily. Tablets should be placed in the mouth and can be left to dissolve or chewed and swallowed. They should not be placed under the tongue or swallowed as a whole. It is equally important to drink before and after each tablet.
Users are asked not to exceed two tablets in a 24-hour period.
Possible Side Effects
Although most users did not experience side effects, there were many that confirmed it made them dizzy and/or nauseous. Moreover, many complained of the stevia inside the formula, which they did not like.
Price
Neo40 is available in three different packages:
1 box of Neo40 daily can be purchased for $59.95 plus shipping
3 boxes of Neo40 daily can be purchased for $99.90 and include free shipping and 2 free NO indicator strips
6 boxes of Neo40 daily can be purchased for $179.90 and also include free shipping but 5 free NO indicator strips
Guarantee & Feedback
HumanN believes in 100% satisfaction guarantee and offers a full 90 trial risk free. Since it takes about 30-45 days of the initial process to start seeing results, users should think about this when making a purchase.
After careful research, however, many clients were discussing HumanN's autoship policy. This is mentioned nowhere on the website or return policy but it is confirmed on other websites. We are not fans of the autoship programs as they are not convenient, so beware of this when placing an order.
Our Conclusive Review About HumanN's Neo 40
While Neo40 has some redeeming qualities such as its 90-day risk-free guarantee and it's useful ingredients, it has too many negatives for us. First, the website has little information regarding the product that it led us to third party websites for further information on ingredients and policy. Second, while there were not many side effects, some were still reported. Third, many users complained of an auto-ship program, which enrolls you automatically when purchasing. We would think twice about purchasing this product and focus on products that are a bit more affordable and offer more positive results.
Bringing you top reviews and product analysis - Consumer Advisors.