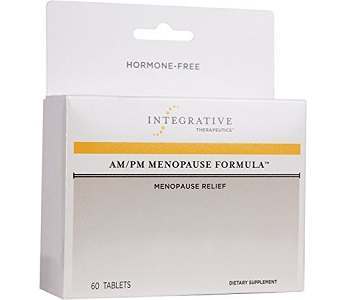 User Ratings (

0

Votes)

0
A product of Integrative Therapeutics, AM/PM Menopause Formula is a natural remedy for symptoms of menopause. According to the manufacturer, it deals with common unpleasant symptoms that are experienced both in the daytime and at night including hot flashes, mood swings and night sweats. The supplement is also said to boost your energy and to promote restful sleep and general well-being. Continue reading our AM/PM Menopause Formula review to learn more about this product and make an educated buying decision.
Ingredients
This product uses two special formulas, AM and PM, to achieve its target goals. The active Ingredients included are listed below for each.
AM tablet
Green tea (Camellia sinensis) leaf extract (Sunphenon) containing 50mg caffeine – 250 mg
Asian ginseng (Panax ginseng) root extract containing 7% ginsenosides – 100 mg
Black cohosh (Cimicifuga racemosa) root and rhizome extract containing 2.5% triterpene glycosides – 20 mg
PM tablet
Valerian (Valeriana officinalis) root extract containing 0.8% valerenic acid – 200 mg
Hops (Humulus lupulus) flower extract – 100 mg
L-Theanine (Suntheanine) – 50 mg
Black cohosh – 20 mg
AM/PM Menopause Formula contains numerous other ingredients, including soy lecithin, sodium carboxymethyl cellulose, hydroxylpropyl methylcellulose, carnauba wax, and magnesium stearate.
Black cohosh provides relief from hot flashes which menopausal women often experience. It promotes hormonal balance for dealing with night sweats and also relieves mood swings. Green tea extract helps to improve your energy levels, while valerian, hops and L-Theanine promote relaxation, restful sleep and well-being.
Dosage
As noted, Integrative Therapeutics AM/PM Menopause Formula consists of two formulas, one for day and one for night. The AM tablet is white in color and one should be taken in the morning. The PM pill is purple and should to be taken 30 – 45 minutes before you go to sleep at night. The manufacturer suggests that usage may need to continue for 4 – 5 weeks to receive maximum benefits.
Possible Side Effects
While for the most part AM/PM Menopause Formula appears safe, we did see a complaint of allergic reaction from use. A customer on Amazon said he or she had rash breakouts and swollen eyes from usage.
Integrative Therapeutics cautions against use of this supplement by people sensitive to caffeine. It also says you should not use without a doctor's advice if you are on prescription drugs for certain medical conditions. You should discontinue use if you notice abdominal pain, jaundice or other symptoms of liver issues.
Price
A pack of AM/PM Menopause Formula containing 60 tablets sells for $24.50. The manufacturer doesn't seem to offer discounts.
Guarantee and Feedback
This product comes with a very limited money-back policy. You have 45 days to return it unopened and in new condition. Obviously this eliminates the possibility of testing its effectiveness risk-free.
As of the time of writing, it had a small number of user reviews on Amazon, not enough to conclusively see trends, but those posted were almost all positive.
Our Conclusive Review About Integrative Therapeutics AM/PM Menopause Formula
Overall, this looks like a reasonable offering for treating symptoms of menopause. It contains ingredients that are potentially helpful and we like the two-formula approach. This may not be the right supplement if you are sensitive to caffeine. And we find the return policy disappointing and not conducive to attracting new customers.
Bringing you top reviews and product analysis - Consumer Advisors.