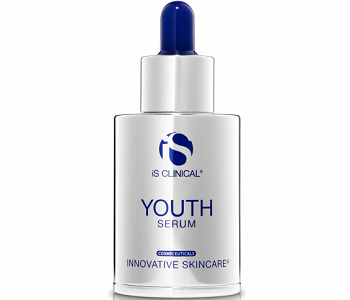 Quality of Ingredient

7.5

User Ratings (

0

Votes)

0
If the manufacturer's description of this serum is anything to go by, it should be very powerful indeed. iS says it has formulated Clinical Youth Serum with both long- and short-term results in mind. The signs of fine lines should be 'instantly' diminished and at the same time, the growth of new skin should give rise to a smooth, firm visage. It is therefore with great interest that we review this serum, which works on patented Extremozyme technology and includes powerful antioxidants.
Ingredients
The key components of the formula are:
Copper Tripeptide Growth Factor
Extremozymes
Vitamin A, C & E Blend
The Vitamin A, C and E blend does make for a powerful blend indeed. Vitamin A is often used aggressively to treat acne as it has anti-inflammatory properties. Vitamins C and E bring antioxidant properties and collagen production to the mix. The growth of new cells is stimulated by Copper Tripeptide. It should, therefore, reduce 'old' and tired-looking skin, so it is replaced by firm and plump skin coverage instead. Despite what the manufacturer asserts, this is not likely to be 'instant'. Extremozymes are the manufacturer's proprietary blend of clinically proven enzymes. They help prevent environmental aggressors, such as free radicals, from aging skin. Centella Asiatica consists of powerful antioxidants that also help to keep skin young looking.
This formula is rich in antioxidants, which is a strong point. However, algae-rich antioxidants have not been included despite being shown to be clinically potent. Nourishment in the form of oils, particularly the clinically lauded Alpen Rose and Willow Herb Flower have also not been included, which will lead to a nourishment deficit.
How To Use
iS Clinical says that although normal use is once a day, you can use the product as often as you like. Apply 3 to 4 drops into the palm of your hand. Dab this onto your cheeks, forehead, and neck. Smooth it evenly over your neck and face. Presumably, you should apply this to clean, toned skin. The manufacturer is not clear. It is of the utmost importance to have clear instructions so as not to obstruct the working of the serum in any way.
Price
A one-ounce bottle with a bottle dropper-like tip will cost you $150 which is on the very high side of the price spectrum for serums. The manufacturer says it should last 2 to 4 months if you use it once a day. There are no discounts or bundled package deals.
Guarantee & Feedback
The company does caution that you should only buy from authorized dealers, otherwise you will forfeit any right to a return. This would imply that there is some kind of guarantee that is normally in place, but we could find no such evidence of one, despite researching quite intensively. Walmart is one of the stores listed as not affiliated with the product, even if the same or a similar product is supposedly stocked there. Despite the pricey nature of the product, the reviews are either that consumers find it to be very good or sub-standard (poor).
Our Conclusive Review About iS Clinical Youth Serum
It is great that the manufacturer uses botanical ingredients of a high pharmaceutical grade. It is also impressive that no fillers, toxic metals or impurities have made their way into the formula, according to the certificate of analysis. As important as this is though, the manufacturer fails to offer proof of cGMP compliance, which would have been preferred. Certain clinically proven ingredients such as Willow Herb Flower, Alpenrose and wheat extracts are missing – these are the ultimate botanicals that could have been used, according to widely published and vetted research.
It is great that the manufacturer has included its own proprietary blend of enzymes as well as trademarked technology as an indication of how much far-reaching research has gone into producing a good product. This still falls short of the criterion that calls for a minimum of five patented ingredients to be included to ensure a best-in-class product that delivers superior ingredient activity across a range of skin target areas. Whereas an elite, tiny number of leading cosmetic companies include five patented ingredients, with their products subsequently shown to be of the highest efficacy, this iS product still falls short in this regard.
Bringing you top reviews and product analysis - Consumer Advisors.