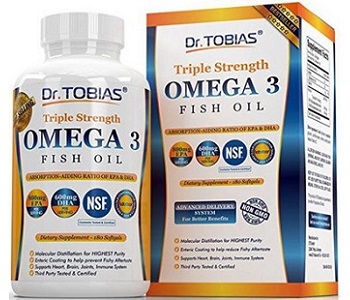 User Ratings (

0

Votes)

0
This is our detailed review of the dietary supplement called Omega 3 Fish Oil Triple Strength. The manufacturer, Dr Tobias claimed that this Omega-3 supplement can support a healthy heart and brain functions, a strong immune system and joints. Read on for more.
Ingredients
According to the manufacturer two capsules provide the following ingredients, namely fish oil (2000 mg), eicosapentaenoic acid (800 mg) and docosahexaenoic acid (600 mg).
Fish oil is a great source of Omega-3 fatty acids, as it offers many health benefits. For instance reducing the risk of stroke or heart disease. Other health benefits include decreasing the symptoms of depression, arthritis, hypertension, joint pain, and attention deficit hyperactivity disorder (ADHD), Alzheimer's disease, eye disorders, anxiety, diabetes or even skin problems, for example eczema, likewise hair problems such as thinning hair or dandruff. Fish oil is associated with supporting the process of slimming, and improved energy levels, in addition to stimulating fertility in addition to supporting pregnancy. The source of the fish oil is from the tissues of oily fish. The best oily fish for Omega-3 are those cold-water fish like herring, salmon and mackerel.
Besides the ingredients mentioned above, the capsules also contain gelatin (bovine) vegetable glycerin, purified water, enteric coating, and natural vitamin E. Gelatin, although great to line the gut, makes it unsuitable vegetarians that eat fish, and this as the gelatin is sourced from hove animals.
Dosage
The recommendation from the maker is that two capsules should be taken daily, with a meal. These capsules should be left to dissolve in the mouth, swallowed, or be chewed. Otherwise, the dosage recommendation of your health care provider should be followed.
Price
On Amazon, a bottle of Omega 3 Fish Oil Triple Strength, containing 90 capsules, costs $29.97. The manufacturer does not provide any discounts or bulk package deals.
Guarantee & Feedback
Subject to where the product has been bought, certain sites have their individual guarantee and/or return policy. For example, at Labdoor, the return policy is restricted to items sent back within 30 days of buying them. Subject that the goods are in good, unused condition, in the packaging they will sold originally; the documentation organized when the buyer emails the concern. Refunds omits the shipping and handling fees and the business reserves the right to reject any items that is sent back.
Still, in terms of customer reviews, our research found that a mere 49.0% of the reviews on Amazon are reliable. Therefore, of the 13110 reviews, most had high levels of deception involved and indicated a suspiciously positive sentiment.
Our Conclusive Review About Dr Tobias Omega 3 Fish Oil Triple Strength
The supplement Omega 3 Fish Oil Triple Strength promises an assortment of health benefits, from brain and heart health, to enhanced immunity. The dosage quantities of eicosapentaenoic acid and docosahexaenoic acid are both at the precise standard level for best results. Furthermore, this dietary supplement is reinforced by a full money-back guarantee if the items brought are sent back within 30 days of buying them.
There are, conversely, some concerns. First of all, this money-back policy is only binding if the items are sent back unused in the packaging they were sold. Failing that, no reimbursement will be made to the consumer. What is more, the dosage of both eicosapentaenoic acid and docosahexaenoic acid may be at the right levels; still, to take in the mandatory quantity you should take two capsules each day, as opposed to just one capsule. Thirdly, there are no discounts given, which then could have made this dietary supplement easier on the pocket. To finish, our research discovered that on the third party site Amazon only 50.5% of the 12934 assessments on this supplement are trustworthy. Not only are the evaluations undependable and of poor quality, there seem to involve high levels of dishonesty.
Bringing you top reviews and product analysis - Consumer Advisors.