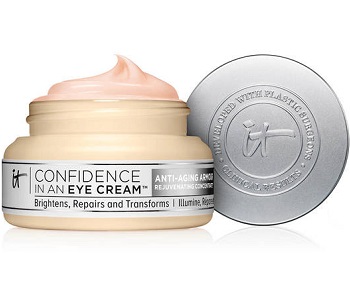 User Ratings (

0

Votes)

0
This review examines It Cosmetics Confidence in an Eye Cream to give the consumer a greater insight into the product. A formulation which might assist with brightening, color correcting, hydrating, smoothing, refreshing, and restoring firmness, to the eyes. This product might assist by reducing the appearance of puffiness, dark circles, lines and wrinkles to the eyes as well. It may be used by consumers with a sensitive skin.
Ingredients
Macadamia Ternifolia Seed Oil
Sunflower Seed Oil
Coptis Japonica Root Extract
Avocado Oil
Squalane
Coconut Oil
Royal Jelly Extract
Camellia Sinensis Leaf Extract
Coffee Seed Extract
Cholesteryl Nonanoate
Cholesteryl Chloride
Cholesteryl Isostearate
Turmeric Root Extract
Licorice Root Extract
Sodium Lauroyl Lactylate
Lecithin
Anthemis Nobilis Flower Extract
Caprylic/Capric Triglyceride
Aqua
Butylene Glycol
Cyclopentasiloxane
Cetearyl Alcohol
Shea Butter
Palmitic Acid
Stearic Acid
Dimethicone
Niacinamide
Peg-40 Stearate
Macadamia Ternifolia Seed Oil is rich in healing, anti-aging benefits. Sunflower Seed Oil contains vitamin E  which helps to protect the collagen and elastin in the skin and reduce the appearance of fine lines and wrinkles. Coptis Japonica Root Extract is a powerful skin-calming and hydrating ingredient. Avocado Oil can nourish and moisturize the skin as it contains potassium, lecithin, and many other nutrients. Squalane has powerful anti-aging properties, helps the skin age gracefully has anti-inflammatory benefits to help with skin conditions such as acne and eczema. Coconut Oil It's naturally antibacterial and antifungal.
Royal Jelly Extract contains Vitamin B Complex, fatty acids, minerals, amino acids, enzymes, natural antibiotic properties, and antibacterial properties.
Not all the ingredients in this formulation are listed, as there are far too many. For an Eye Cream to be effective Clinically proven ingredients which contain 10% active ingredients with a minimum of 5 patented ingredients such as EyeLiss, Syn-Eye, Regu-Age PF, Syn-Coll, and Phytocelltec Alp Rose, needs to be included in the formula nothing more and nothing less.
EyeLiss helps prevent puffiness and reduces bags under the eyes. The three active molecules in the solution are hesperidin methyl chalcone, dipeptide VW and lipopeptide Pal-GQPR. Syn-Eyeworks fast to deliver visible results that meet consumers' expectations for multifunctional eye care products. Syn-Eye helps to improve skin texture, making the delicate skin around the eye look smoother. Within 7 days, Syn-Eye visibly reduces the appearance of lines and wrinkles around the eyes. Regu-Age PF (an effective bioactive) that protects the delicate skin around the eyes and visibly reduces the look of dark circles and eye puffiness. Clinical studies have confirmed an advance in the skin texture of 30%-plus in just four weeks.
Syn-Coll a patented, synthetic tripeptide which helps slow down the skin aging process. It mimics the body's own mechanism, simultaneously boosting collagen production and protects against collagen degradation. After only one month of application, Syn-Coll outperformed a market benchmark in a fight against lines and wrinkles. Phytocelltec Alp Rose promotes the vitality and longevity of skin stem cells,  strengthens the skin barrier, providing better protection to the skin against climate-induced stress. By using plant stem cells it delays skin aging by protecting vital skin stem cells, keeping the skin looking youthful longer, and giving it a beautiful and more vital appearance.
This is an Animal-Friendly product.
How To Use
To apply this product which is in a tub container, the consumer must use the ring finger to gently tap the cream onto the entire eye area, including under the eyes, along with the orbital bone and under the brows.
The manufacturer has refrained to mention how much of the eye cream and when this product might be applied. An airtight pump action bottle might make it easier for the consumer to apply.
Price
A tub of 0.5 fl. Oz will cost the consumer $38.00 if they purchase it online from the manufacturer's website. Offers such as Auto Replenished items offer a 10% discount plus free shipping and orders over $50.00 include free shipping as well.
Guarantee & Feedback
A 30-day money back guarantee is given by the manufacturer, on any item purchased – no questions asked.
Good product reviews.
Our Conclusive Review About It Cosmetics Confidence in an Eye Cream
This product offers the consumer a good money back guarantee, the consumers are mostly pleased with the product and the manufacturer makes use of an Animal-Friendly product which is very pleasing. The facts that are not so pleasing are that the usage directions are not clear and that an airtight pump action bottle might be easier for the consumer to use.
This Eye Cream contains too many ingredients, for an Eye Cream to be effective Clinically proven ingredients which contain 10% active ingredients with a minimum of 5 patented ingredients will provide optimal effective results.
Bringing you top reviews and product analysis - Consumer Advisors.