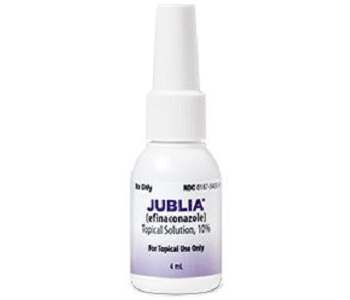 User Ratings (

0

Votes)

0
In this Jublia Topical Solution review where we aim to find out whether this product can help remove nail fungi or not. Jublia claims that their treatment is specially formulated to penetrate the site of onychomycosis in order to remedy toenail fungus. Is there any truth to their claims? Read on to find out more.
Ingredients
The key ingredient of Jublia's topical solution is 10% efinaconazole which is found to aid in treating fungal problems on both fingers and toes when applied regularly.
The inactive ingredients include alcohol, Anhydrous citric acid, Butylated hydroxytoluene, C 12-15 alkyl lactate, Cyclomethicone, Disopropyl adipate, Disodium edetate, and purified water
Dosage
Based on the recommendations of the manufacturer, you only need to apply a drop of Jublia onto the affected nail. You don't need to squeeze the bottle or even rub the brush firmly on the nail. Just turn the bottle upside down to allow the liquid to wet the brush then apply gently on the affected nail or nails. If you're going to use it on your big toenail, you will need to apply a second drop. You need to make sure that the entire nail, cuticle, and surrounding skin will receive this solution for effective results.
Possible Side Effects
From what we have learned about this product, we have come across users who reported side effects as stated in Jublia's main website. Among the side effects that some users experienced are redness, ingrown toenails, swelling, and itching. The company encourages users to report any side effects they have experienced to the FDA. What's more, pregnant or breastfeeding women, as well as children below the age of 18, as well as those who are taking any medications should consult with their doctors first before using this treatment as there might be complications when using this topical solution.
Price
There was no indication on Jublia's main website on its actual price so we did a little digging and found that it can be bought from various online sites like Walgreens. The price, however, ranges from $350 to $600 for a single bottle of Jublia Topical Solution. There are discounts when you use coupons from select stores when you purchase from them.
Guarantee & Feedback
After checking Jublia's main website and FAQs, we have determined that there are no guarantees being offered. This is something you should take note of. The reviews we found online for this product have been mixed.
Our Conclusive Review About Jublia Topical Solution
We have gathered as much information as we can for our Jublia Topical Solution Review and we conclude that this is a pricey topical solution for nail fungus. Although the key ingredient, efinaconazole, is known for its ability to treat and nourish the nail, we don't think the price is appropriate for such a solution. What's more, there are side effects that are linked to using this product which is not really promising for those who need help with their nail fungus. Another thing to consider about Jublia is that there is no money-back guarantee in place. This means that you will be risking a high price for this topical solution without any guarantee that you can get your money back if you are not happy with the results.
Bringing you top reviews and product analysis - Consumer Advisors.