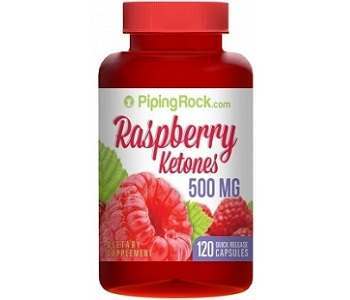 User Ratings (

0

Votes)

0
With a large portion of today's society overweight, it is no wonder there as been such an emergence of weight loss supplements on the market. These products are not designed to be miracle cures, rather they are designed to help with the weight loss process. One type of these supplements are those made from raspberry ketones. Raspberry ketones are believed to help speed up the burning of fat and also increase metabolism. This review will have a look at Piping Rock Raspberry Ketones to see what it has to offer. This product claims to help you reach your weight loss goals and regulate metabolism.
Ingredients
Each capsule contains 500mg of raspberry ketones. The manufacturer does not specify whether these ketones are derived from real raspberries or if they are synthetically manufactured. Raspberry ketones that are synthetically manufactured are less effective than those derived from real raspberries. Raspberry ketones are believed to increase the release of adiponectin, which is a hormone that regulates metabolism.
Dosage
It is advised to take one capsule, twice a day. It is preferable to take the capsules with a meal.
Possible Side Effects
Piping Rock Raspberry Ketones is only recommended for adults. The manufacturer does not mention any side effects with taking this product, however, they do state that women who are pregnant or breastfeeding should consult their doctor before taking this supplement. It is also recommended for those taking other medications to speak to a doctor before taking this product.
Price
You can buy Piping Rock Raspberry Ketones online from the manufacturer. One bottle contains 180 capsules and is available for the very low price of $9.37. This price is discounted from the original price of $13.39. This low price makes us wonder about the quality of the raspberry ketones in the product. There are no options for savings when buying multiple bottles.
Guarantee & Feedback
The manufacturer offers a one-year guarantee to customers in the US if you are not happy with the product. For international customers, the manufacturer only offers a 60-day money back guarantee and you are only able to return closed bottles.
There are only five reviews on the manufacturer's website. Four of these are positive and one is negative. There were also not many reviews on Amazon, though they were also positive.
Our Conclusive Review About Piping Rock Raspberry Ketones
The price for this product is very low which is easy on your pocket. The supplement also contains the recommended daily dosage of raspberry ketones. However, the manufacturer does not specifically say they are natural raspberry ketones. The low price also makes us wonder if the raspberry ketones are, in fact, synthetically manufactured. Natural raspberry ketones have been proven to be the most effective when it comes to losing weight. The low number of reviews also makes us think this is not a very popular product. There are other products on the market that show their raspberry ketones are 100% natural.  We think it is worth exploring products that are guaranteed to contain natural raspberry ketones.
Bringing you top reviews and product analysis - Consumer Advisors.