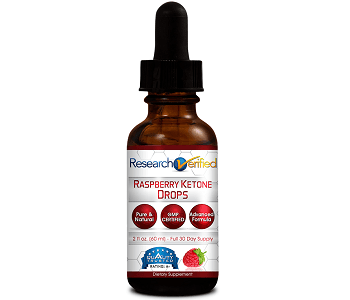 User Ratings (

0

Votes)

0
Raspberry ketones are purported to increase the production of adiponectin. Adiponectin is a hormone that contributes to the breakdown of fat cells for energy. This increase in Adiponectin can help your body lose weight naturally. It's very important to realize that you don't go and buy the first bottle of raspberry ketones that you see in the store, as many are synthetically grown or contain additives and low-quality ingredients.
Research Verified has not only created a 100% pure raspberry Ketone extract, but they have based their claims on clinical studies and research. This ensures that you are getting top-quality ingredients and the correct dosage that is safe and effective in preventing weight gain and aiding weight loss. We will review the ingredients of Research Verified Raspberry Ketone Drops and pricing below.
Ingredients
This product contains a 320mg Raspberry Ketone Ultra Complex including raspberry ketones, African mango extract, Acai fruit, green tea extract, resveratrol, caffeine anhydrous, apple cider vinegar, kelp, and grapefruit. Research Verified Raspberry Ketone Drops contains no other fillers, binders, or additives. It is also manufactured in an FDA registered lab that is cGMP certified.
Dosage
The recommended dose is 1ml taken twice daily. 1ml is about 20 drops. Each bottle provides a one-month supply.
Possible Side Effects
There are almost no side effects associated with taking this product. Please consult with your doctor if you are pregnant, diabetic or are taking other medication. Make sure to only take the recommended dosage.
Price
Research Verified makes sure you are able to save money when buying this product. You can learn more about Research Verified and all the ways they put their customers' best interests first. You can buy this product online directly from Research Verified's website and Amazon. Research Verified Raspberry Ketone Drops can be bought in different sized packages. Try them out for one month or get the best value pack of a full 6-month supply. The packages are as follows:
One-month supply will cost $48.

Three-month supply will cost $98.
Six-month supply will cost $142 (save $277).
Guarantee & Feedback
Research Verified Raspberry Ketone Drops can be bought completely risk-free. The manufacturer gives you a full 365 days to test out the product. They also allow you to return both opened and unopened bottles. So if for some reason you are unsatisfied with the product, you will get your money back no questions asked. This shows they are very confident that you will be satisfied with their product. Customer reviews show that there are many people that have been happy with their purchase.
Our Conclusive Review About Research Verified Raspberry Ketone Drops
Research Verified Raspberry Ketone Drops do not give unsubstantiated claims but base their products on clinical studies and scientific research on the effects of raspberry ketones on the body. After a full 11 week study, it was determined that raspberry ketones did, in fact, stop the high-fat-diet-induced elevations in body weight and decrease liver fat, speed up metabolism, and prevent an increase in body weight. There is simply no comparison when it comes to finding a high quality and natural Raspberry ketone product to help you with weight loss. Additionally, you have an entire year to decide if you are fully satisfied with this product; their money-back guarantee on all bottles is what sets this company apart.
Bringing you top reviews and product analysis - Consumer Advisors.