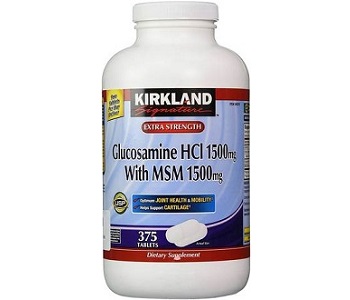 User Ratings (

0

Votes)

0
Today we review Kirkland Signature Glucosamine With MSM.  This supplement provides the clinically proven amount of glucosamine to help support healthy joints and better mobility.  It also helps to support stronger cartilage, which is essential for your joints.
Ingredients
The two main ingredients in this supplement are 1500 mg of glucosamine and 1500 mg of methylsulfonylmethane (MSM). Doctor verified research has shown that the optimal dose of glucosamine is 1500 mg daily, which is exactly what is offered in these pills.  Unfortunately, there are many ingredients missing from this supplement to be able to say that it offers optimal support. Chondroitin almost always accompanies glucosamine supplements and is an important building block for your joints.  There are also no ingredients to take care of any immediate inflammation.
Dosage
The daily recommended dose for this product is two capsules, taken together, once per day.  It is not stated, however, whether this supplement should be taken with food or on an empty stomach, or if you need to take them with a full glass of water.
Possible Side Effects
While there are no listed side effects for this product, our research shows that glucosamine is know cause mild nausea, heartburn, and other stomach problems in some cases.  Also, this product does come with an allergy warning that the product does contain shellfish.
Price
A 375 count bottle of this supplement costs only $14.99.  While there are no additional discounts on this product, the price is for a 6 month supply.  The purchase price of this product is extremely cheap when compared to other similar supplements.  With such a low price, it may be an indicator that the ingredients are not of as high of a quality than its competitors may use.
Guarantee & Feedback
Kirkland Signature does offer a 100% money back guarantee of their products.  As this manufacturer works with specific stores, you can either return the product for a refund in store or by mailing it.
While there were many positive reviews for this product, there were also some negative ones.  One comment that seemed to be brought up in almost every review was that these capsules are very large and non-coated, which make them extremely difficult to swallow.
Our Conclusive Review About Kirkland Signature Glucosamine With MSM
Kirkland Signature Glucosamine With MSM had a few positive traits.  Its formula includes the daily recommendation of glucosamine and the price is extremely low.  The manufacturer's guarantee is also easy to follow, and can be done both in store or online.
However, we also found many concerns when researching this supplement.  While the ingredients listed are up to quality standards, there are many ingredients, like chondroitin, that are missing from this formula to give these capsules the optimal results in helping heal your joints.  Also, customers report that these pills are extremely large and difficult to swallow, which could make the dose of 2 pills per day hard to take. For these reasons, we cannot recommend this supplement to help support healthier joint function.
Bringing you top reviews and product analysis - Consumer Advisors.