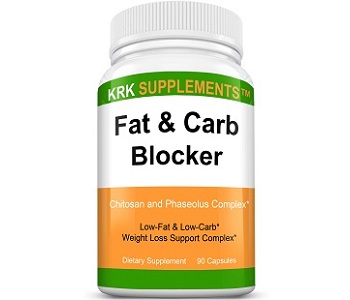 Quality of Ingredient

5.5

User Ratings (

0

Votes)

0
The following is a review for a product called Fat & Carb Blocker from KRK Supplements. This dietary supplement is a great option for people who want to burn fat when following a low-fat or low-carb diet. This dietary supplement is a carb blocker, which means that when you use this supplement your body is not able to digest starches. They are known as amylase inhibitors and they prevent carbohydrates from being absorbed into your body. When your body does absorb those carbohydrates, they are converted into sugar and stored as fat.
Ingredients
According to what we could find on the packaging this product contains Chromium Polynicotinate, Phaseolus vulgaris, chitosan, guarana, and coleus forskolii extract. Additional ingredients in the formula include gelatin, microcrystalline cellulose, and magnesium stearate. These are a good collection of ingredients. However, there are a few concerning points that came to light during our research. There are more additives, preservatives, fillers, and binders included in this formula than we would expect in a product like this. Additionally, we are worried that this product does not include many vital ingredients that would be beneficial in this formula.
Dosage
Sadly, there are no clear instructions regarding the dosage of this product. The closest we could get to how much you should take is a note on the packaging that states one capsule is equal to one serving. We do not feel like this is sufficient information to be able to use this supplement safely. The contents of your stomach and fluid intake can have a significant impact on your body's ability to absorb this supplement.
Price
You can buy this product for $12.77 from Amazon. You receive a coupon that provides you with 20% off on your first purchase. Additionally, if you subscribe for five purchases you receive up to 15% off your purchase.
Guarantee & Feedback
Unfortunately, we were unable to find any information regarding a guarantee for this product. We feel that this is a large indication that the manufacturer does not trust their product. Companies who believe in the product they deliver are not afraid to assist customers who are not happy with their purchase. After thorough research, we were unable to find any customer reviews related to this product on the manufacturer's website. This is rather concerning as we like to get an indication of what other people have thought of this product before we make any judgments.
Our Conclusive Review About KRK Supplements Fat & Carb Blocker
In this review of Fat & Carb Blocker, we found that this product might be quite effective for supporting the body in weight loss by preventing starch absorption. This product is relatively well priced and easy to buy. It also contains an effective combination of ingredients. However, this product contains an excessive amount of preservatives, fillers, and binders. The manufacturer does not make any consumer reviews available for people to look at when deciding if they want to purchase this product. Additionally, there is no information available regarding third party testing which was completed for this product, which means the quality, effectiveness, and safety of this product is not confirmed.
Bringing you top reviews and product analysis - Consumer Advisors.