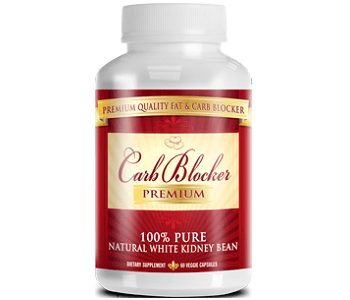 User Ratings (

0

Votes)

0
It's difficult to stay away from carbs when we are surrounded by them. From breakfast cereals to fitness bars, sandwiches, and bread rolls, carbs are readily available throughout your day. Consuming too many carbs will elevate insulin levels which are what leads to weight gain and increased fat storage in your body. In this review of Carb Blocker Premium, you will understand how their formulation using the white kidney bean will prevent carbs being broken down and stored as fat. This is actually a revolutionary way to lose weight and reduce cravings.
One of the major problems with eating a lot of carbs is that when your body breaks the carbs down into sugar, your insulin levels rise and then drop, which then leads you to crave even more carbs and sugars to keep you going. This vicious cycle leads to weight gain and a lack of appetite control. Carb Blocker Premium made with white kidneys beans is also known for being a rich source antioxidants, dietary fiber, B vitamins and folic acid. These are very beneficial for the heart, digestive system, and brain.
Ingredients
These capsules contain 100% pure white kidney bean, as well as chromium and chitosan which are necessary for absorption. This product has no other additives, fillers or artificial ingredients. It is also manufactured in an FDA registered lab that is cGMP certified.
Dosage
For the best results, it is recommended that you take 2 capsules with a glass of water, every day.
Possible Side Effects
There are very few if any side effects reported when using Carb Blocker Premium. Some people may have slight gastrointestinal discomfort until their body adjusts to using the supplement.
Price
Each bottle of Carb Blocker Premium will give you a full month's supply, containing 30 servings per bottle. Carb Blocker Premium offers different priced packages to suit your needs. The best value pack is the 6-month supply which gives 3 free bottles and saves you $222. The packages are as follows:
One-month supply for $48.
Three-month supply (buy 2 get 1 free) for $91.
Six-month supply (buy 3 get 3 free) for $138.
Guarantee & Feedback
The Carb Blocker Premium supplement offers a solid 90-day money back guarantee.  This is really great news for consumers who can actually test out the product for a good few months to ensure that you are 100% satisfied with the supplement. Their guarantee states that if you are for any reason unhappy with the product, you can return all the bottles (even opened ones) and you will receive a full refund, no questions asked. This shows the manufacturer is pretty confident that you will be satisfied with their product. We have also read very positive tried and tested experiences of consumers who have been using Carb Blocker Premium with excellent results.
Our Conclusive Review About Premium Certified Carb Blocker Premium
When you find it hard to stay away from carbs like rice, bread, cereals and many other products, Carb Blocker Premium might just be the perfect solution to aid you in curbing the sugar cravings and prevent the carbs being stored as fat. The white kidney bean extract by Carb Blocker Premium is completely safe and natural. The supplement is produced with only the highest quality ingredients and the formulation is based on clinical studies and scientific research. With the 90-day money back guarantee, we can conclusively say that this company cares about satisfied customers and will provide top-quality products.
Bringing you top reviews and product analysis - Consumer Advisors.