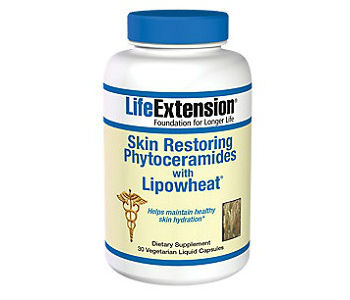 User Ratings (

0

Votes)

0
Skin Restoring Phytoceramides with Lipowheat is a dietary supplement that claims to help produce soft, supple and glowing skin. It is said to gently nourish the layers of the skin so that your skin stays hydrated. It also aims to tackle the challenge of poor ceramide absorption and promote healthy ceramide levels in aging skin. We decided to conduct a full review of Skin Restoring Phytoceramides with Lipowheat to see whether the product does offer proper hydration and helps you deal with the visible signs of aging.
Ingredients
We found the main active ingredients in the product are lipowheat and ceramide oil extract while the additional ingredients are vegetable cellulose, rice bran oil, silica, and rosemary.
Together the ingredients are responsible for maintaining the structural integrity of the skin and helping slow down the aging process.
Ceramide oil can penetrate deep into the skin and helps to lock in the moisture. Since the main function of the product is to offer healthy looking skin, we did not find that Skin Restoring Phytoceramides with Lipowheat is lacking in any ingredients.
Dosage
The recommended dosage is one capsule per day with food or as directed by your doctor. You should strictly adhere to the prescribed dosage and not exceed it.
If you suffer from any health condition or are taking any medication, consult your doctor before you begin taking Skin Restoring Phytoceramides with Lipowheat. Nursing mothers and pregnant women should not consume this supplement.
Possible Side Effects
The manufacturer's website does not note any possible side effects. While wheat extract does not usually have side effects (except, possibly for those with gluten sensitivity).
Price
Although the retail price of the product is $25.00, you can purchase the supplement online at a discounted rate of $18.75.
Guarantee & Feedback
Life Extension, as a manufacturer, provides what it calls a "liberal" return policy. If you are not satisfied with your purchase for any reason, simply return it within a year of the date of purchase and the company will replace or refund your purchase.
We were happy to see many positive reviews about the product. Several customers said that it does wonders for the skin and keeps it well hydrated, soft and glowing. There were a few consumers who felt the supplement is a bit expensive.
Our Conclusive Review About Skin Restoring Phytoceramides with Lipowheat
The product does fulfill a lot of its promises. It seems that it maintains the youthfulness of the skin and imparts a natural radiance to it. Lipowheat in the supplement improves dryness and should help reduce itching and flaking of skin. We believe that even though some users feel it is an overpriced product, it is reasonably affordable and worth more than ineffective anti-wrinkle and anti-aging creams. The strong return policy is also a plus.
In conclusion, our review of Skin Restoring Phytoceramides with Lipowheat gives the product a favorable score. Our only concern is that the tablet itself is relatively large and may be a challenge for some to swallow.
Bringing you top reviews and product analysis - Consumer Advisors.