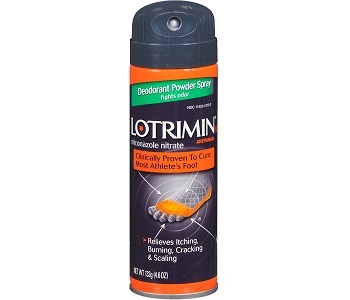 User Ratings (

0

Votes)

0
Read our following review about Lotrimin AF Antifungal Powder Spray. This athlete's foot deodorant anti-fungal powder spray is designed to help cure most athlete's foot and also provide effective relief from associated symptoms. To find out more about how Lotrimin AF Antifungal Powder Spray works and the ingredients in this product, read our informative review below.
Ingredients
Lotrimin AF Antifungal Powder Spray claims to help effectively relieve itching, burning, scaling, cracking, and discomfort associated with this fungal infection. The manufacturer offers three different types of sprays including liquid, powder, and deodorant powder. The main active ingredient in the deodorant powder spray is miconazole nitrate 2%. It also contains inactive ingredient including fragrance, isobutane, SD alcohol 40-B (8% v/v), stearalkonium hectorite, and talc. However, based on the research we have done, the product does not contain the strongest fungal fighting ingredient that has been clinically tested and approved to be effective and safe. This is undecylenic acid (25%). The absence of this ingredient may cause the product to be less effective when comparing it to other brands that do contain this ingredient.
Dosage
The manufacturer suggests that the user wash the affected are and dry it well. The next step is to shake the can well and spray a thin layer over the affected area. It is best to use it twice a day, once in the morning and once in the evening. Pay special attention between the toes if you are targeting athlete's foot. Also remember that for athlete's foot and ringworm, use for 4 weeks and for jock itch, only use for 2 weeks. If the nozzle clogs, use a pin to clean it.
Price
Follow the instructions on the manufacturer's website to find a local store to make a purchase from. Customers can also make an online purchase, by selected one of the online retailers provided on the manufacturer's website. A can of 4.6 ounces will cost between $6.44 and $19.32. Either way, the product is priced very low and may indicate low-quality ingredients. Furthermore, the manufacturer does not offer bundle deals for customers to take advantage of.
Guarantee & Feedback
We were quite disappointed as we were unable to find any evidence of a money-back guarantee. This means that the customer will be at risk and that the manufacturer does not believe in their product. Also, we were unable to find any customer reviews.
Our Conclusive Review About Lotrimin AF Antifungal Powder Spray
After completing our analysis of Lotrimin AF Antifungal Powder Spray, we came across a few things that we like about the product. It is great to see that the manufacturer provides the customer with clear and informative instructions on when and how the product should be used.
Unfortunately, we also came across a few drawbacks from the manufacturer's side concerning the product's effectiveness. First of all, the product does not contain undecylenic acid which is the strongest fungal fighting agent. Lack thereof may result in a less effective product. Furthermore, the product is priced very low which may link to the ineffective ingredients list. Finally, the manufacturer does not back their product with a guarantee and leaves their customers at risk. These drawbacks lead us to believe that Lotrimin AF Antifungal Powder Spray is not as effective as other brands and we do not recommend it.
Bringing you top reviews and product analysis - Consumer Advisors.