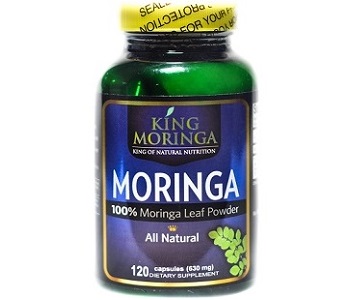 User Ratings (

0

Votes)

0
This review is examining a moringa supplement called King Moringa Moringa Capsules. Moringa powder is an antioxidative and anti-inflammatory substance that is also very high in beneficial nutrients. Moringa powder is a popular supplement used for a variety of applications such as brain health, weight loss, overall vitality, and regulating blood sugar to name a few. In the following review, we shall help you decide if this product is the best moringa supplement available on the market – helping customers make valuable and confident purchases.
Ingredients
Moringa leaf is the most nutrient-rich part of the moringa oleifera tree; containing a vast selection of vitamins, minerals, amino acids, and more. It has been used for many years in ancient Ayurvedic medicine and has a proud place in many people's health routines. While these capsules are vegetarian, there is no mention if the product is vegan-friendly or cruelty-free. Furthermore, there is no GMP certification – which is used to ensure good practice was used during the manufacturing process. The lack of these certifications suggests that quality and ethics may not have been a priority throughout production. It is concerning that there is a total lack of ingredient information provided by the manufacturer, so we cannot say if this product is pure or if it is tainted by preservatives, fillers, and other artificial or allergenic ingredients. In saying so, we cannot ensure the efficacy of this product.
Dosage
This product contains 630 mg of the key active ingredient per capsule, recommending that 1 to 4 capsules should be taken per day (which is in line with the market standard concentration). However, in another section of the website, the manufacturer suggests taking 4 to 10 capsules a day. These instructions are confusing as well as conflicting. Furthermore, there is no mention if these should be at specific times of the day or if they should be taken with food. Although there are no safety precautions, we highly recommend speaking with your doctor before consuming these supplements – especially if you are pregnant.
Price
This product is available for purchase from the King Moringa website. 1 bottle contains 120 capsules which may not even last the month if taken according to the confusing and excessive dosage instructions. 1 bottle will cost you $30,00. There is no package offers or further discounts available, making the long-term use of this product potentially costly to sustain.
Guarantee & Feedback
The manufacturer offers no guarantee or return policy available on the King Moringa page. This is concerning as the manufacturer offers no customer support should they have any queries or complaints. Furthermore, there are little to no customer reviews available for this product to support its efficacy. This is highly unfortunate and prevents us from commenting any further on the effectiveness of this product.
Our Conclusive Review About King Moringa Moringa Capsules
This product has a concentration of moringa powder that meets the market standard, however, the dosage instructions are inconsistent and confusing. Overdosing may result in the unnecessary accumulation of costs. What is highly concerning is the lack of transparency and support behind this product. The product was not manufactured in a GMP certified facility, does not disclose the ingredient list, is not backed by a manufacturer guarantee, or have the testimonial of customer reviews. For these reasons, we do not recommend King Moringa Moringa Capsules as a wise purchase choice.
Bringing you top reviews and product analysis - Consumer Advisors.