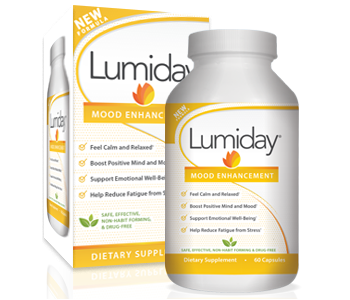 User Ratings (

0

Votes)

0
Today we review Lumiday Mood Enhancement. In order for you to be productive and present in your day to day life, it is important to keep your spirits up. Mental and emotional support can effectively change the way you do life. If you are prone to stress and anxiousness then it might be a good idea to invest in some extra dietary support. Lumiday Mood Enhancement claims to help you ease stress and tension and helps you to fight fatigue. This product also improves concentration and boosts your mood throughout the day. If you are serious about your mental wellbeing and you find this product interesting, read our review below.
Ingredients
Some of the ingredients in this product include Vitamin D, Thiamin, Niacin, Vitamin B6, Folate, Vitamin B12, St John's Wort, Pantothenic Acid, Ashwagandha Extract and Rhodiola Extract. 12 Of these ingredients in this product actively help you to resist stress and combat anxiety. Ashwagandha is an adaptogenic herb that fights stress on all levels. Rhodiola Extract is a non-drowsy ingredient that is known for combating depression and anxiousness and has general health enhancing properties. Vitamin D, Niacin and Thiamin is known to keep the nervous system healthy and also boosts the immune system.
Dosage
It is recommended that adults take 2 capsules per day with liquids. This product can also be taken every day since it is safe and non-habit forming.
Possible Side Effects
This product may cause sensitivity to natural or artificial sunlight. Some of the ingredients may also cause mild side effects like nausea, bloating or gas. You should consult your doctor before taking this supplement, especially if you are pregnant, breastfeeding or have a history of heart conditions.
Price
You can buy this product directly from the manufacturer's website, which is very convenient. Each bottle contains 60 capsules and will cost you $69.99. You can also try out their product and sign up for the trial option. This allows you to try out the product for 14 days.  If you don't cancel your subscription by the 18th day they will send out your first shipment of Lumiday. You can cancel your membership at any time. Shipping costs will amount to $4.99 per shipment.
Guarantee & Feedback
If you are unhappy with this product then you can send it back within 30 days starting from the day the product was shipped to you. You can return opened and used bottles. Unfortunately, the trial bottles cannot be returned and they also will not reimburse you for shipment and handling costs. There are a lot of positive reviews regarding this product but there are also a lot of negative reviews regarding this product. Some of the complaints on Amazon stated that this product caused lethargy and did not help at all with anxiety or stress symptoms.
Our Conclusive Review About Lumiday Mood Enhancement
We like the natural ingredients used in this product. We also like that you can get a trial option to help you decide if this is the right product for you. However, we feel that this product is not at all competitive price wise when it comes to similar products on the market. We also feel that the side effects of this product may not make it worth it in the long run. The reviews on Amazon also make us hesitant to invest in this product.
Bringing you top reviews and product analysis - Consumer Advisors.