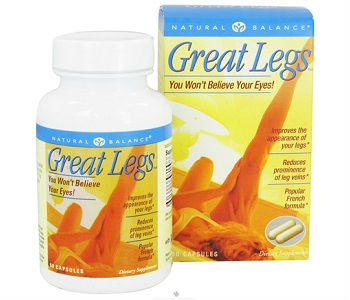 User Ratings (

0

Votes)

0
Introduction
Do you suffer from varicose veins? If you do, you're probably looking for a treatment for this unsightly condition. If not, you might want to start, because varicose veins that aren't treated can worsen, even to the point of requiring surgery. Varicose veins are caused by the veins becoming weaker with age or health problems, which makes the blood that flows through them push outwards on them. Varicose vein treatment is usually done with medication that both strengthens the walls of the veins and improving circulation. There are so many medications and products out there for varicose veins, however, that sometimes it can be difficult to tell which products are good and which aren't worth your time. Here we'll be taking a closer look at Natural Balance Great Legs to see which kind of product it is.
Ingredients
These are the ingredients that are in Natural Balance Great Legs:
Vitamin C
Hesperidin Methyl Chalcone
Gelatin
Silicon Dioxide
Microcrystalline Cellulose
Stearic Acid
The first three of these ingredients are the active ingredients. Vitamin C and Hesperidin Methyl Chalcone are used for cell health and to strengthen the walls of the veins, while Butcher's Broom is used to improve circulation. The rest of the ingredients are used to put the active ingredients into pill form.
Dosage
The manufacturers of this product recommend a dosage of three capsules once daily.
Possible Side Effects
There manufacturers have not listed any side effects of this product, but as always it's important to know that you may have a negative reaction to it anyway. If you do notice an adverse reaction, stop taking this product and contact your doctor.
Price
One bottle of Natural Balance of Great Legs, which contains 60 pills, can be bought for $12.29. This is extremely low for what amounts a 20 day supply, which is good (who wants to spend more money?), but it does make me wonder about the quality of the product they're offering.
Guarantee
A money-back guarantee could not be found, at least from the manufacturers. Of course, if you purchase this from another retailer, they may offer their own guarantee or refund policy, but the makers of this product themselves will not offer you a refund if you are not satisfied, which should set off a few warning bells.
Conclusion Of Our Natural Balance Great Legs Review
Natural Balance Great Legs seems like a pretty good product for treating varicose veins. The ingredients are commonplace and the price is incredibly low, which does make this product a good deal, but it may make you wonder about how good of a product you're getting. Additionally, the makers don't offer a guarantee on their supplement, which could mean that they don't have any faith in their product. If these things bother you, you could always find another supplement to take.
Bringing you top reviews and product analysis - Consumer Advisors.