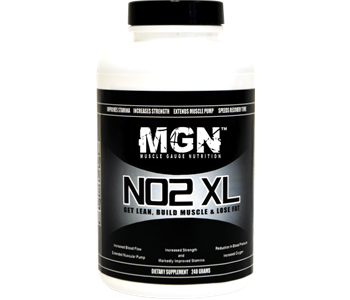 User Ratings (

0

Votes)

0
The use of Nitric Oxide supplements can aid workout performance by improving the body's ability to pump essential nutrients. These supplements increase the production of Nitric Oxide in the body in order to improve blood flow. The following review of MGN NO2 XL will outline this product's ability to boost energy for a better workout, enhance the building of lean body mass and provide excellent value with each purchase.
Ingredients
L-arginine Alpha-ketoglutarate
L-ornithine Alpha-ketoglutarate
L-glutamine Alpha-ketoglutarate
L-arginine Ketoisocaproate
This product includes the base ingredients for an effective Nitric Oxide supplement. The combination of these ingredients can improve the production of Nitric Oxide in the body and boost energy levels during workouts, however, this product lacks several ingredients found in competitor products. Ingredients such as Beetroot and L-citrulline maximize a Nitric Oxide supplements ability to produce optimal results. The lack of these ingredients is a major concern.
Dosage
The manufacturer does not provide detailed information on using this product for optimal results. This does not give consumers confidence in the ability to use this product effectively. It is difficult for us to ascertain the desired dosage, therefore, individual testing would be required. This can only be assessed after a purchase has been made.
Possible Side Effects
There are several side effects associated with the use of Nitric Oxide supplements. WIthout proper indication of dosage, it is more likely that consumers could overdose or underdose this product which can lead to negative side effects or no results at all. Negative side effects include nausea, diarrhea, and inflammation.
Price
Despite our efforts, we were unable to locate a retailer or online store that stocks this product. With no indication of when stock will arrive, it appears that the release of this product has been discontinued. Therefore, consumers are unable to use this product for improved workout performance.
Guarantee & Feedback
Neither the manufacturer nor third-party sites offer a guarantee on this product. This can be attributed to the fact that this product is no longer for sale. Upon further research, we were unable to find any customer reviews of this product.
Our Conclusive Review About MGN NO2 XL
This product appears to be a beneficial Nitric Oxide supplement at face value. It includes several advantageous ingredients. However, it lacks several additional substances that can improve the ability of a Nitric Oxide supplement to produce desired results. On top of this, a major concern is that the product is not available for purchase. It is no longer available on the manufacturer or any third-party website. The lack of price, guarantee and customer reviews make us skeptical of this product and its efficacy. We highly recommend seeking an alternative product on the market for an improved workout. Be sure to consider a product that is in stock and supported by a guarantee.
Bringing you top reviews and product analysis - Consumer Advisors.