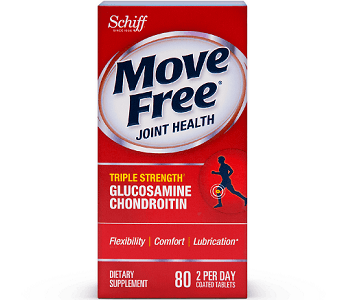 User Ratings (

0

Votes)

0
Millions of people around the world suffer from some kind of joint discomfort which could become debilitating. This is our review of Move Free Triple Strength Joint Health, a product from Schiff Nutrition International, that's designed to support joint health.
Move Free Triple Strength Joint Health combines two of the best-known joint protection and rebuilding products –  Glucosamine and Chondroitin, both of which occur naturally in joint cartilage – with two additional joint lubrication and protection substances – Hyaluronic Acid and Uniflex.
However, the product does not come with a guarantee; and it does not appear to be manufactured in an FDA registered, cGMP certified laboratory.
Ingredients
Glucosamine Hydrochloride 15g (1500mg) – Helps to strengthen, protect and rebuild joints.
Chondroitin Sulfate 200mg – Assists in lubricating and cushioning joints.
Hyaluronic Acid 3.3mg – Also known as "joint fluid", it helps to lubricate, rejuvenate, rehydrate and repair joints.
Uniflex (FruiteX-B Calcium Fructoborate) 216mg – A mineral complex found naturally in fruit and vegetables that is said to deliver protection and comfort of joints.
It also contains shellfish and cellulose, croscarmellose sodium, magnesium stearate, silicon dioxide, hydroxypropyl cellulose. The coating contains hydroxypropyl methylcellulose, modified corn starch, titanium dioxide, polyethylene glycol, glycerine and magnesium trisilicate.
Dosage
It is recommended to take two tablets daily either taken together with a meal, or one tablet twice a day with meals.
Possible Side Effects
The product contains shellfish (shrimp, crab, lobster and crayfish) and should be avoided by anyone with a seafood allergy. Pregnant and breastfeeding mothers should consult their doctors before using this product.
Glucosamine and chondroitin both have an effect on the body's ability to produce blood clots. If taken along with prescribed anticoagulants such as Warfarin, the blood thinning effects may be increased and could result in bleeding disorders. Glucosamine hydrochloride can cause gas, bloating, and cramps.
Consumers who take prescription medication for conditions like asthma, diabetes, high blood pressure or high cholesterol, should speak to their doctor before consuming this product.
This product should not be consumed for at least two weeks prior to undergoing surgery.
Price
We found it difficult to ascertain the price of this product on the product website. The Schiff online store indicates that price has been reduced from $29.99 to $17.99.  Other online stores offer it at between $17.99 to $24.99 for a bottle of 80 tablets.
However, consumers can sign up for a rewards program which enables them to earn points on their purchases of Move Free Triple Strength Joint Health. When sufficient points have been earned, these can be redeemed for coupons or healthcare information.
Guarantee & Feedback
We were unable to find any information regarding a money-back guarantee – or indeed any kind of guarantee – for this product. The customer reviews for this product are mostly positive, though there were some complaints of customers receiving the incorrect product.
Our Conclusive Review About Move Free Triple Strength Joint Health
Despite the small size of the tablets, which appear to contain an adequate amount of the main active ingredients, they are apparently quite easy to swallow.
However, unlike similar products on the market, Move Free Triple Strength Joint Health does not come with a guarantee. Pricing was difficult to ascertain and several of the retailers linked to the website did not appear to stock the product. We were also concerned about the lack of detailed information regarding the rewards program which looked like it could be a scheme designed to make people buy more and more product in order to eventually obtain an unspecified "reward".
Bringing you top reviews and product analysis - Consumer Advisors.