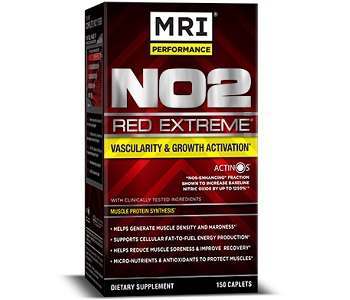 User Ratings (

0

Votes)

0
MRI NO2 RED Extreme is said to offer the right energy rush at the right time and to play a vital role in increasing blood flow, magnifying vascularity and improving muscle pump. The manufacturer claims it is also your go-to product if you are looking to improve your endurance and strength levels. Since most people are new to this product, we decided to put NO2 RED Extreme through our review process to see whether the supplement matches expectations and delivers what it promises.
Ingredients
We found numerous active ingredients in this product:
L-Arginine: An essential amino acid that promotes the growth of muscles
Folic Acid: Helps to maintain muscle health
Vitamins A, C, D3, B3, K, B6, and B12
Calcium
Zinc
Magnesium
The vitamins and three minerals help maintain bone density and increase your strength and endurance levels.
Dosage
The recommended dosage is three capsules, 30 minutes prior to your breakfast. If you want to further build up strength, you can take two more capsules mid-afternoon. Do not exceed the recommended dosage.
Possible Side Effects
We could not find any side effect associated with the product. However, the label does state it is not meant for people, who are allergic to arginine, milk, citrus fruits, or corn.
This product should not be used by children or by pregnant or nursing women.
Price
The product contains 150 capsules and comes at a price of $69.99. You can purchase the supplement online.
Guarantee & Feedback
Although we conducted a thorough search, we were unable to find out whether the manufacturer offers a money-back guarantee should you need to return the product. If this is of concern to you, confirm this information with the manufacturer before purchasing the supplement.
Most consumers have found the product to be useful. They claim not only does it aid in generating muscle density and hardness, but it also helps to improve muscle recovery and manage soreness. It consists of six nitric oxide precursors and is good at obstructing the aging of muscles. Some users have found that the product fails to offer the adequate dosage of nitric oxide while others state it is too expensive.
Our Conclusive Review About MRI NO2 RED Extreme
Ultimately, MRI NO2 RED Extreme looks like a solid product that increases muscle strength, offers good pump and boosts vascularity.
It can also be physically draining and dehydrating. Hence, you need to maintain a healthy diet and drink a lot of water when taking it. It does seem.
There are two major drawbacks of this product. First, its price comes in quite high compared to most competitors in the marketplace. And tied to that is the apparent lack of a money-back guarantee. We might be more comfortable with the price — perhaps the ingredients really are a notch above those of the majority of Nitric Oxide products available — if there were a solid return/refund policy. Without the latter, you may be risking a notable chunk of change if it doesn't work for you.
Bringing you top reviews and product analysis - Consumer Advisors.